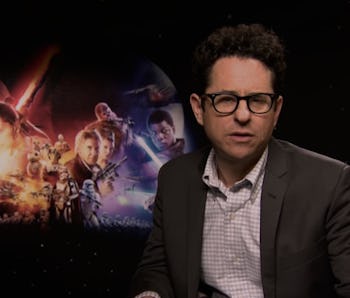 Entertainment
J.J. Abrams Can't Enter the 2016 'Star Wars' Fan Film Contest, but You Can
Watch previous winners and find out how to enter this year's contest here.
YouTube
If December 2017 seems like a long time to wait for your Star Wars fix, keep your eyes on the official fan film competition. Anyone can enter, except J.J. Abrams, who already had his chance to make Star Wars fan fiction.
"They've told me I can't enter, which is insulting." Abrams said in an announcement video. "But, I know everyone at Lucasfilm can't wait to see what you come up with, so good luck."
We're assuming Rian Johnson can't enter either, but he's probably pretty busy anyway.
For the past few years, Star Wars has been holding an official awards ceremony and competition for the best made fan film in several categories: Filmmaker Select, Best Animation, Best Non-Fiction, Spirit of Fandom, Best Comedy, Best Visual Effects, and Audience Choice.
Some prior winners have been full on productions with special effects and stage makeup; others have been stop-motion films with action figures. You're allowed to use any official Star Wars merchandise, costumes, and an official sound pack of blasts, zaps, and beeps provided online. You can't, however, show any other brand names or make references to Star Trek (sorry J.J.). They can be in English, German, or Spanish and will be judged on their storytelling, filmmaking, character design, and other categories.
You can enter the competition, which runs until 11:59 p.m. Pacific Time on April 24, here, but take a minute to browse the official rules as well. For the non filmmakers out there, check out some of last year's winners below. Here's the Filmmaker Select winner The Lesser Evil.
And here's 2015's "Best Comedy" entry, Bounty Buddies.
You can see the full list of 2015's winners with this playlist, and watch J.J.'s official announcement below.