Nobody Needs the 'Deadwood' Movie More than Its Creator David Milch
A new exposé reveals dire straits for the beloved 'NYPD Blue'-famous writer and producer.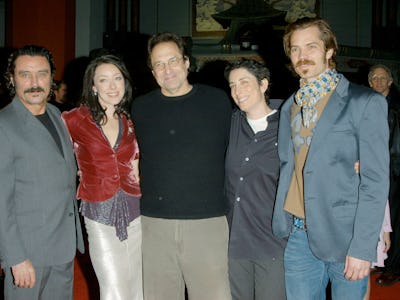 Stephen Shugerman/Getty Images
A new Hollywood Reporter feature — essentially a long, preachy version of a TMZ exposé that thinks it's a New Yorker profile — illuminates the ongoing struggle of NYPD Blue and Deadwood mastermind David Milch with gambling addiction. The piece gets fairly deep into the details of Milch's assets, family life, and past struggles with addiction, which are probably no one's business until Milch himself decided to be forthcoming about it (Milch is not quoted in the piece). Leading up to the release of Luck, his short-running 2012 show inspired by his years of experience at the racetrack, he chose to tell the media only: "It depends on who I'm lying to."
Today, Milch lives in a modest home in L.A., at least when compared with the two mansions he lived in prior to becoming over $17 million in debt to the IRS. Sources told the Reporter that the beloved writer and producer is living on $40 a week, and struggling to sell his former homes.
Milch is not technically out of work, though he hasn't delivered any projects since Luck was cancelled due to multiple deaths of horses on set, as well as poor ratings. He is still tremendously respected by HBO; after all, Deadwood — though off the air since 2006 — is widely considered to be one of the greatest television shows ever made. He remains under exclusive contract with the network.
Ostensibly, Milch has been writing an adaptation of the 2008 novel Shadow Country, another 19th-century outlaw drama of sorts, with Jeff Bridges committed to the starring role.
And, of course, there's the long-rumored Deadwood follow-up TV movie. It's been cried wolf about for some time, but many believe now it will happen, based on statements from HBO. In its piece, the Reporter states without sourcing that Milch is currently working on a two-hour film; recent statements from an HBO executive to TVLine, however, clarified that Milch was tied up with his other project and had not yet written the Deadwood script.
Speeding ahead with the Deadwood project and, indeed, pushing forward any new project with HBO — with which he is working toward renewing his contract — seems to be something of a necessity for Milch at this point. We hope the pressure won't derail the eccentric working methods that have made everything he's worked on up until this point such a delight.