Everything We Know About the 'Deadwood' Movie 
Reports have claimed a "Deadwood" movie is "definite," but is there anything to illustrate that HBO and creator David Milch will actually be able to get it together?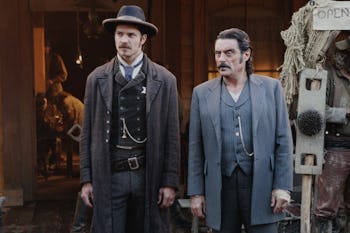 'Deadwood' Facebook
Writer and director David Milch's one great opus — the three-season HBO warhorse Deadwood — is frequently distinguished as one the most perfect television shows of all time. Among other things, it is the most renowned serial drama to end on a serious cliffhanger — that is, unless you count the Lynchian obscurity of the Twin Peaks season finale.
So a film sequel to the HBO Shakespearean Western has been a whisper in the wind since the show ended in 2004. It's an impressive cast to reassemble a decade after its conclusion, consisting of many venerated character actors (from star Ian McShane to Brad Dourif to William Sanderson to Powers Boothe to Keith Carradine to the great Jeffrey Jones) and actors who have since risen to greater heights of stardom. Lead Timothy Olyphant is by now more recognized for his lead role in Justified, while Anna Gunn, Garrett Dillahunt, Robin Weigert, Molly Parker, and Titus Welliver, among others, have since landed major television and film roles. But it's not impossible to imagine any of these actors reassuming their parts in the incestuous, crooked little Montana town. One just hopes they can all get their schedules lined up, and not have it be one of those things like the Netflix reboot of Arrested Development where you can tell no one was in the same room at the same time.
Last week, seemingly definitive evidence came from HBO executive Michael Lombardo that a film followup was slated to happen; TV Line reported this last week. But though the entertainment news had a field day with the news that Lombardo had given Milch "the green light" on the film project, not enough attention was paid to the fine print.
Lombardo specifies that Milch is embroiled in another project at the moment, and that, "the understanding is that when he is done with that he will turn his attention to [writing the] script for the Deadwood film." It's unclear what that is — this suspended HBO movie is the last project we heard anything about, following the failure of the horse-racing, Dustin Hoffman-starring drama Luck in 2012.
To me, there's no indication that this Deadwood talk amounts to much more than dinner-table chatter. Being given permission is different than anything binding. Lombardo says that "David has our commitment that we are going to do it," and yet a concept is not even in place. HBO isn't the one who has to "[do] it"; Milch has to, and he hasn't. So this is essentially just an expression of interest on the network's part: It can be fit into their budget, and they are confident that a cult for the show still persists.
But if the world doesn't even have any evidence of Milch's latest project yet, it's presumably still fairly far down the pipeline. With that so far in the future, and without a Deadwood script written or conceived, it will be at the minimum be another two or three years or so before we see a potential release date.
Will Milch get around to it? Our skepticism may be a crying-wolf situation, but how much more definitive are Lombardo's comments than past intimations?
In 2006, Milch "agreed" to make two two-hour films to wrap up the series with HBO, and though that seemed like a mighty official agreement, it never came to pass. Nearly a decade later, one wonders if the energy and resources (mostly salaries for these in-demand actors) can actually be covered to finish what Lombardo says Milch views as being "left unsaid." There will unquestionably be a lot of hoops to jump through, despite the rumors suggesting otherwise.