Three 'Fallout 4' DLC Adventures Are Upping the Price of the Season Pass
Add-ons include Automatron, Wasteland Workshop, Far Harbor, and more.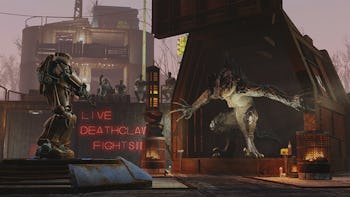 Bethesda made the announcement this morning that Fallout 4 is about to get its first dump of DLC add-ons — three units over the next three months. While the first two are priced at $10 and $5, the last one shoots up to nearly $30. I think you'll see why.
These are also just the first few expansions of the year, with double this amount planned for 2016. That makes the season pass for Fallout 4 at $30 seem too good to be true — and it is. Because of the overwhelming amount of content coming to the game, Bethesda has decided to raise the price of the season pass to $50 starting on March 1st. So you've got a month to decide whether this all makes sense to pre-purchase.
Automatron, March 2016
"The mysterious Mechanist has unleashed a horde of evil robots into the Commonwealth, including the devious Robobrain. Hunt them down and harvest their parts to build and mod your own custom robot companions. Choose from hundreds of mods; mixing limbs, armor, abilities, and weapons like the all-new lightning chain gun. Even customize their paint schemes and choose their voices!"
Not an extended adventure so much as a passive inclusion of questions and baddies, but with the option to build robot companions. Not that I want to break the game, but if I could build Fallout 3's Liberty Prime to help me incinerate "Communists" across the Wasteland, that would hit a pretty sweet spot.
Wasteland Workshop, April 2016
"With the Wasteland Workshop, design and set cages to capture live creatures – from raiders to Deathclaws! Tame them or have them face off in battle, even against your fellow settlers. The Wasteland Workshop also includes a suite of new design options for your settlements like nixie tube lighting, letter kits, taxidermy and more!"
Again, more game tweaks than adventure here. This seems the least interesting to me, because I usually feel best avoiding animals entirely, but if you want to set a Deathclaw trap, HAVE AT IT! This guy certainly doesn't regret his choices:
Far Harbor, May 2016
"A new case from Valentine's Detective Agency leads you on a search for a young woman and a secret colony of synths. Travel off the coast of Maine to the mysterious island of Far Harbor, where higher levels of radiation have created a more feral world. Navigate through the growing conflict between the synths, the Children of Atom, and the local townspeople. Will you work towards bringing peace to Far Harbor, and at what cost? Far Harbor features the largest landmass for an add-on that we've ever created, filled with new faction quests, settlements, lethal creatures and dungeons. Become more powerful with new, higher-level armor and weapons. The choices are all yours."
Finally. The big one. Having recently replayed some Fallout 3 expansions and realized the overwhelming scope of levels like Mothership Zeta, I can only drool in wonderment at what Bethesda is bringing to the table here. "MAYBE SOME UNDERWATER GAMEPLAY?" I shout into the void. The chances on that are probably good.
Finally, Bethesda has a few words about early beta access and the continuing overhaul of the game.
"Want a chance to play these add-ons early? We'll be running closed betas for each of the add-ons for consoles and PC. And you can sign up right now on Bethesda.net. In order to apply, you'll need to create a registered Bethesda.net account. We'll be selecting applicants in the upcoming weeks. Players accepted into the beta will receive a code to redeem the content. The beta is the full version (complete with achievements) and those participating will not have to purchase the add-on.
"Beyond add-ons, we'll continue to offer free updates to the game, including new features like the recent weapon debris for PC, and increased draw distances for consoles, as well as more optimizations to gameplay and quests. And something that we're really excited about, a complete overhaul of Survival Mode that changes how you play the whole game: food, sleep, diseases, danger and more."
So this game continues to be alive and well post-release. The increase draw distances on consoles is a pretty visible and welcome update, so let's hope they build on the success.