Jimmy Tries Breaking Good in Last Night's 'Better Call Saul' Premiere
The Season 2 premiere continued Jimmy McGill's ill-fated journey of self discovery.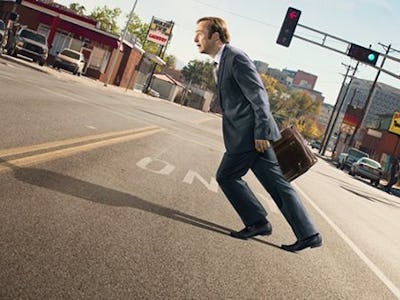 www.facebook.com/BetterCallSaulAMC
Just like that, we're back. And just like Season 1, we start with a resplendent but downtrodden black-and-white scene of the former James M. McGill, Esq. (played by Bob Odenkirk) as the manager of a Cinnabon in a desolate Omaha mall, the product of the unofficial witness protection scenario wrought upon him because of Walter White, the unseen protagonist/antagonist of Better Call Saul's father series, Breaking Bad. McGill (now known as "Gene") finds himself trapped in the garbage room after the dead-end mall has shut down for the night. Unwilling to open the emergency exit because the door warns that alarms will go off and alert the police, he resigns himself to sitting on a dirty milk crate and waits for someone to let him loose. Hours later, when he's finally freed by an oblivious janitor, the camera stays put. It slowly zooms in on the graffiti-strewn wall, eventually revealing McGill's own scratch marks: "SG WAS HERE."
Co-creators Vince Gilligan and Peter Gould could have cashed in on the success of Breaking Bad to create a lazy spinoff that chronicled the zany adventures of the wild cast of clients that Saul Goodman (aka the slimy Albuquerque nom de guerre that McGill will eventually take up) had to deal with week to week. Instead they doubled down on the layered tragicomedic tale they spun with Breaking Bad to create something similar, and though it might not seem like it on the outside, Better Call Saul is just as dark.
It's a show that deals primarily with identity, and whom we choose to be to others. Where Walter White used his multiple personae (at his most innocent: Walt, at his most devious: Heisenberg) to solidify his identity for himself, McGill is focused on how others perceive whoever he thinks he is at a given time. He could be the bumbling public defender; he could be the calculated lawyer; he could be the loving brother; he could be the Chicago con man persona called Slippin' Jimmy and a bunch more. But instead of McGill throwing these personalities at characters in the show, the first episode of Season 2 seems to extend the question to the audience: Whom would we rather see him be?
For a while it seems like we'd want him to fall back and be Slippin' Jimmy just for all the fun he could have. "I've done the right thing all these years, and where has it gotten me?" he ironically asks his legal partner in non-crime, Kim. That way he doesn't have to deal with the lost respect for his brother or the potential failure of the huge class action lawsuit drama he drummed up in Season 1. Instead, he can just kick back and target marks for the type of swindles he cooked up with his now dead friend Marco back in Cicero. But this all depends on what you think "the right thing" is.
In "Switch" he makes his case to Kim by roping her into conning a greedy holier-than-thou businessman-type at a hotel bar with him by pretending to be a clueless idiot loaded with investment money. For the man's inflated ego and empty interest, they fool him into running up their food-and-drink bill with $50-per-shot liquor. After clearing the guy out, the pair escape and it all ends in a night of giddy passion. But once the booze wears off and the sun comes up the next day, it's obvious she'd never leave her law job behind to join him in committing petty fraud. "Wouldn't it be great if we could do that every night?" he tells her. "Yes, but we can't" she answers coldly like the voice of reason. Slippin' Jimmy is just a momentary idyll.
Better Call Saul prides itself on showing that people with checkered pasts can be good, and vice versa. That goes for Jimmy as well as Mike Ehrmentraut (played by the inimitable Jonathan Banks) whose storyline parallels Jimmy's own ill-fated journey of self discovery. It also goes for the poor bastard prescription-pill dealer Pryce, who dumps Mike's tough guy service when he says he's done paying for protection he says he doesn't need anymore. Needless to say, it won't end well for him.
But the focus always goes back to Jimmy, James M. McGill, Esq., or whomever he says he is at a given time until he becomes the "SG" he etched into that Omaha mall wall forever. Unlike Walt, Jimmy might finally break good, and we actually want him to, but the sad part is that we know all roads for Jimmy lead to that sad, sad Cinnabon.