Teen Suicides Investigated as an Epidemic in Palo Alto
The CDC begins a two-week-long probe into suicide in the affluent California city.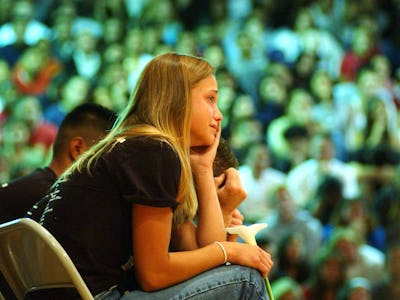 David McNew/Staff
For the past 10 years, the suicide rate for teenagers has been between four to five times the national average in the affluent tech-hub of Palo Alto, California. With fearful community members unsure of how to stop the suicides among their youth, today, a team of mental health experts from the Centers for Disease Control and Prevention travelled to the city to begin a two-week-long investigation.
The five-member team specializes in suicide prevention and is part of the CDC's Epi-Aid program, a mechanism of the CDC to conduct epidemiological investigations. Santa Clara County officials requested that the team be brought in to probe the situation; while Epi-Aid teams typically respond to infectious disease outbreaks, in 2014 a task force was sent to Fairfax County, Virginia to study a similar cluster of teen suicides. County officials hope that the CDC staff will be able to provide practical recommendations to mitigate the ongoing persistence of suicides among minors in Palo Alto.
"It is not anticipated that the CDC's investigation will solve this public health problem, but instead provide a unique perspective with hopefully new information about youth suicides in the community," says Project Safety, a teen suicide prevention organization in Palo Alto.
Certain advantages concur when an Epi-Aid team is involved in a community outbreak situation: Generally, the members of the federal Substance Abuse and Mental Health Services Administration are able to provide expertise and analysis at a much faster rate than local officials. Their inclusion also means streamlined access to CDC experts and laboratory resources.
The team's on-site visit to Palo Alto comes after three months of working with the Santa Clara County Public Health Department, collecting data from 2008 to 2015 on suicidal behavior throughout the county. Before the CDC became involved, city and school officials in Santa Clara took steps toward suicide prevention efforts, including expanded counseling services, starting school later so students could sleep more, and installing new fencing rims at the Caltrain tracks — the site where some of the young people ended their lives.
An average of 20 children and young adults killed themselves annually between 2010 and 2014 in Santa Clara County. In Palo Alto, specifically, six teenagers committed suicide between 2009 and 2010 and four more did so between 2014 and 2015.
Nationally, suicide is the third-leading cause of death among persons age 10 to 14 and the second leading cause of death among persons 15 to 34. Psychiatric disorder is present in up to 80 to 90 percent of adolescent suicide victims, but the risk factors are things that almost every teenager experiences — a pressure to excel academically, lack of social support, a stigma and denial toward mental illness.
While in Palo Alto, the Epi-Aid team will attempt to survey the extent of problem, track trends, and identify more predictive factors. They will not survey social media, although the Epi-Aid team that worked in Fairfax County found that cyberbullying was a factor that put teens at risk.
"It is time we wake up to the reality that Palo Alto students teeter on the verge of mental exhaustion every single day," wrote then-Palo Alto High School junior Carolyn Walroth, in a March 2015 op-ed. "It is time to realize that we work our students to death."