China's Movie Market Just Set the One-Week Box Office Record
The Chinese New Year holiday and a handful of domestic hits like 'Mermaid,' 'From Vegas to Macau III,' and 'The Monkey King 2' helped seal the deal.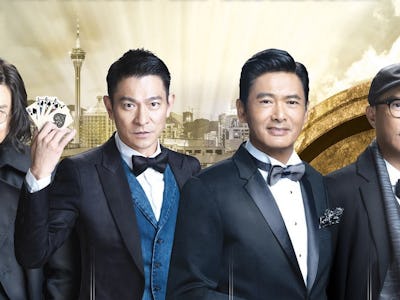 YouTube
If you happened to be in China this past week, chances are you went to the movies once or twice or four times. China's box office broke the seven-day record for worldwide box office numbers, totaling $548 million in ticket sales. That number crushed the previous record set by North America last year when the territory racked up over $529 million from December 26 to January 1, largely aided by Star Wars: The Force Awakens.
It should be noted that China broke the record without the help of the billion-dollar space opera driving up the numbers. Hong Kong director Stephen Chow's latest sci-fi comedy Mermaid and other domestic Chinese sequel hits like From Vegas to Macau III starring Chow Yun-fat and The Monkey King 2 starring Gong Li were largely responsible for the spike in attendance.
China also likely got the ticket sales record because of the Chinese New Year holiday, which also helped China's film market recently break the single-day record for ticket sales in the country.
Per The Hollywood Reporter, the country's one-week record eclipsed the Chinese box office numbers generated for the entire year a decade ago. It's an obvious telltale sign of how rapidly China's film market has grown in such a short period of time. China's total box office number for 2006 was approximately $327.5 million. It was previously thought that China's rapid growth was due to Hollywood hits like Furious 7 fueling the development of the entertainment industry there, but the seven-day record proves China can do it on its own.
China is now the second biggest film market other than Hollywood, and the new record might hasten industry predictions that say the country will surpass the U.S. by 2017. It seems like it's definitely not a question of if, but a question of when it will happen.