New 'The Flash' Season Trailer Shows Zoom Unmasking and Diggle From 'Arrow'
Central City turns against Barry Allen in a new trailer for the rest of Season 2 of 'The Flash.'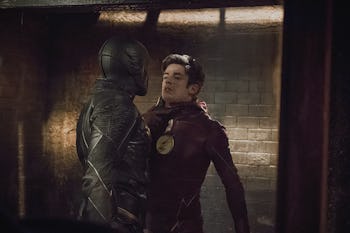 The CW
The end to Season 2 of The Flash is quickly approaching. In the new trailer "Zoom's Coming," glimpses of the rest of the season include John Diggle and Lyla from Arrow arriving to apprehend King Shark, Jay Garrick possibly getting his Speed Force back, and Zoom finally unmasking. Which they don't show, natch, but at least The Flash is saying we will soon enough.
Also of note is a new arc involving Central City turning against the Flash. A new editor for the Central City Picture News appears to call the shots — to Iris' visible frustration — in the paper's new angle framing the Flash as a rogue vigilante. Season 2 began with a whole festival dedicated to the Flash's honor. What did Barry do in his pursuit for Zoom? The trailer hints something happens to Barry during his current imprisonment under Zoom.
Speaking of vigilantes: Diggle! John Diggle and Lyla are coming to Central City all the way from Star City in Arrow for a special guest appearance, which is seen briefly in the trailer. They're hunting King Shark, who was sent to A.R.G.U.S. custody the last time he was in The Flash. He probably got out during the Shadowspire attack in the recent Arrow episode "A.W.O.L."
Also, who is this? Is it Lyla? Is she doing the mask thing with Diggle? Even if it's her, I can't tell.
As of right now in The Flash, Barry is trapped in Earth-2 as a prisoner along with Harrison Wells' daughter and a mysterious man in a mask. Some fans speculated if it was Diggle, but upon re-watching, he looks a little too slim to be the ridiculously buff Diggle.
The Flash airs Tuesdays on the CW.