Play Every Game From Your Childhood Again With the Windows 3.1 Internet Archive
Over 1000 retro games and applications join the DOS archive online.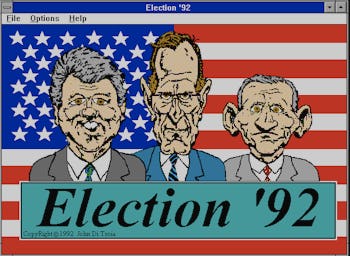 Internet Archive
Before Windows 95, there was Windows 3.1. It was Microsoft's first true operating system — a user-friendly system with stable architecture and plenty of freedom for the budding software industry to flourish. In 2001, Microsoft officially stopped supporting Windows 3.1, leaving the forgotten operating system to return to the cyber-dust from which it came. But on Thursday, just over 22 years since its release, Windows 3.1 is back online, on The Internet Archive, which has released over 1000 of the operating system's original games, programs, and applications online for free.
Here's Ski Free, which you may remember from later versions of Windows, but which started on 3.1.
The Windows 3.x (there were multiple iterations of 3.1) library is a trip down nostalgia lane for some, and an interesting window into the history of computing for others. We suggest starting with the Windows 3.x Showcase, which is a curated gallery of some of the most recognizable games and programs from the retro operating system. Otherwise, you can dive right into the entire games collection.
Or, try early versions of office programs like "Finance," "4A Calculator," and "Bookworm."
Still, it's probably a good thing that Windows 3.1 has phased out of existence. The few places it's still hanging around aren't holding up so well. Although it's still better than Windows 1.0. The Internet Archive gives you the best of both worlds: you can enjoy the nostalgia, and go back to the 21st century just by hitting escape.