The Only 5 Items Expecting Parents Really Need
Babies are expensive, but they don't need nearly as much crap as first-time parents might think.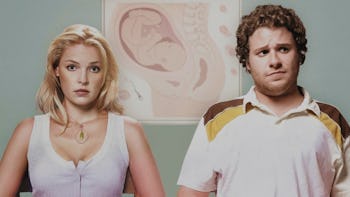 Tumblr
Being a parent for the first time can bring up all kinds of anxiety. There are some baby-related costs you just can't dodge: diapers, formula (if you go that route), new sets of clothes every few weeks (they grow quick, yanno?), and, depending on your insurance situation, your bundle of joy is probably going to be accompanied by pretty hefty bill. However, there is a whole raft of shit expecting parents might think they need, but are almost guaranteed to rarely, if ever, use.
Things like special baby food processors (hint: the same magic bullet you use to make smoothies will puree kiddo's fruit and veg), baby-wipe warmers, and organic, high-end bassinets complete with organic mattresses, are complete wastes of dough. In fact, most parents will tell you that while things like changing tables and standalone high chairs make sense in theory, they just end up taking up space and collecting dust. Resist the urge to break the bank on a bunch of shit you don't need, and grab these five items that will get you through baby's first year.
Boppy Pillow
Not what you were going to guess for a No. 1 draft pick, right? It might not seem like it, but the soft U-shaped pillow will more than likely be your most used item in baby's first 9 months or so. The pillows are perfect for feeding, sleeping, or — until they can sit up by themselves — even just a great way to prop baby up and let them check out what's going on around them. Babies tend to be on the messy side, so make sure to have a couple of extra covers (make sure they are soft and hypoallergenic) on standby.
Diaper Genie
I know, I know, disposable diapers are horrible for the environment. If you can do the cloth diaper service, more power to you. Bonus admiration points (and sympathy) if you are washing cloth diapers yourself. However, if you just can't hang with cloth, whether it be for reasons of cost, time, or convenience, do yourselves a favor and invest in a Diaper Genie.
In fairness, the first few months won't be that big of a deal, but once baby starts dropping their post-meal presents with a little more… fragrance, you will thank yourself for investing $39.95 in the diaper disposal unit. With the tap of the foot and a twist of handle, baby's special delivery is neatly sealed in its own section of a scented bag. Once the genie is full, just pop the lid, toss, and repeat.
Diaper Bag
You don't really need to drop a ton of money on the bag itself. Really, you just want to make sure that it comes with a changing pad and some sort of built-in cooler for bottles. Past that, keep it stocked with diapers (more than you think you need), wipes (more than you think you need), towels and/or spit rags (more than you think you'll need), and whatever assortment of powders and ointments you use to keep baby fresh and smooth.
If you do a lot of traveling, invest in a bag that has separate storage for all of your crap: yuck-proof sections for a laptop, phone, various charging cord, keys, etc. First time parents will be pleasantly surprised by the utility of these bad boys even if you never leave the house. Babies are a bit unpredictable, so having all the essentials within arm's reach — even if you're just chilling in the living room — is one of the major keys DJ Khaled tells the young people about.
Swaddling Blankets
Buy a lot of these. A lot. Like, take the number you have in mind and multiply by two. And not these bullshit "miracle" swaddling blankets either; learn how to do a proper baby burrito using the basic, cheap-ass (like the cheapest blankets you can get that aren't burlap), rectangular swaddlers. Because here's the thing: your newborn will sadly only need to be swaddled for a very short period of time.
The real return on investment comes when they transition from newborns to full-on mess machines. For their first nine to 12 months (possibly nine to 12 years) your children will cough up, burp up, and/or throw up at every turn possible. They will turn every meal time into their own culinary Jackson Pollock workshop. And at some point, such mystifyingly large quantities of yuck will come out of their backsides that even the most robust diapers will be powerless to contain the deluge.
And you, my sleep-deprived friend, will have to clean all that mess up. Go ask your friends who have already been through it: Those swaddling blankets make the best cleaning rags. Some you will be able to reuse, some you won't, but believe me, you'll be glad you have every one of them.
Travel System/Geo Bundle
If at all possible, you want to go big on the car seat and stroller. Obviously, you want baby to be safe on your travels, so this is not the time to skimp. Even if you don't own a car, you'll use the detachable car seat more than you think, especially in baby's first four or so months. As far as the stroller, get the one that has wheels like a 1978 Toyota Land Cruiser. You want to talk about parental anxiety? Let the wheel fall off a stroller while you're trying to hoof it to that doctor's appointment in the rain.
If your budget allows, think heavily about adding the collapsible playpen upgrade. Some folks don't dig the concept, but unless you were blessed with a couple of extra arms, an integrated play yard can act as play area, feeding nook, napping spot, or changing table. Especially once they get mobile, "baby jail" makes it much easier to do all that mundane day-to-day stuff that used to be relatively easy like talking on the phone, making a sandwich, using the bathroom, and talking mess about new parents who always seem to go overboard on baby stuff.