Hulu Picks Up Freddie Wong's Sci-Fi Anthology Series 'Dimension 404'
Famous YouTuber gets his first scripted series picked up by Hulu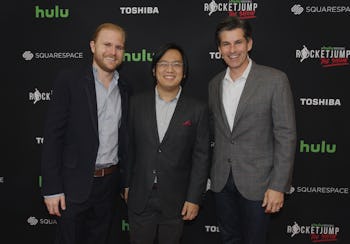 Getty Images
Freddie Wong, the YouTube sensation who founded the production company RocketJump, will helm Dimension 404, a Lionsgate-produced sci-fi anthology set to stream on Hulu. Featuring six hour-long episodes that will explore the darker corners of the digital world, the new project marks the first venture by RocketJump into scripted television.
The series plays with the idea of the 404 error in creative ways, extrapolating in bizarre directions. Dez Dolly and Will Campos created the show, and Wong will executive-produce and direct alongside RocketJump co-founder Dolly and Matthew Arnold. It has not been announced yet when the series will go live.
In the past, Hulu's original programming hasn't been the most popular, with several series cancelled after just one season. Competing brands, like Netflix and Amazon, for example, have arguably trumped Hulu in creating well-received original content. Could Dimension 404, Hulu's first sci-fi series, be the change-up that the programming company needs? We'll have to wait and find out.