A Sonic the Hedgehog Movie Mixing CGI With Live-Action Is Coming in 2018
The Sega mascot is going fast to the box office.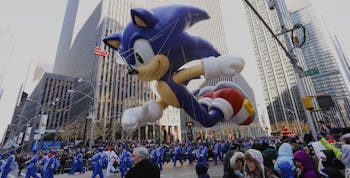 Getty
Sonic the Hedgehog, the '90s video game icon known for speed, will take it slow to the cineplex when the as-yet-untitled Sonic the Hedgehog movie releases in 2018.
In an interview with The Worldfolio, Sega Sammy Holdings Inc. CEO Hajime Satomi revealed a partnership with Sony Pictures to produce a live-action/CGI hybrid motion picture starring Sonic the Hedgehog. The projected release for the film is scheduled for sometime in 2018.
"Sega Sammy Group is currently planning with Sony Pictures to create a live-action and animation hybrid Sonic the Hedgehog movie scheduled for release in 2018. Like with this CG animation production, we would like to expand our business into other entertainment areas beyond what we are currently involved."
This isn't the first mention of a Sonic movie that is combining computer animation with live-action. In 2014, Sony and Sega announced they enlisted Japanese animation studio Marza to bring the character to the big screen. It is unknown if the movie Satomi is referring to is the same production or a replacement, and little else is known about the film.
Sonic the Hedgehog was Sega's company mascot that starred in many successful video games and cartoon TV shows throughout the 1990s, and considered a direct competitor to Nintendo's Mario. In recent years, Sonic's popularity waned from mainstream pop culture due to Sega's diminished market share in the industry, as well as the mediocre quality of recent Sonic video games. But Sonic retains a loyal, if sometimes bizarre and oft-ridiculed fanbase.
But the official Twitter is self-aware comedy gold. Totally worth following.