This Oscar-Winning Actress May Land Another Huge Sci-fi Role
Lupita Nyong'o may star in 'Intelligent Life,' a first-contact thriller.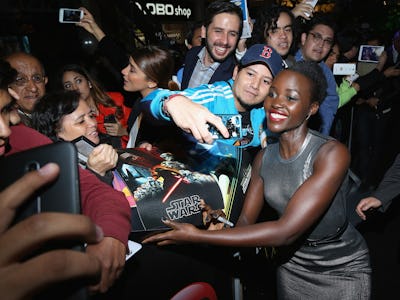 Victor Chavez/ Getty
Forget the motion capture: Lupita Nyong'o is in negotiations to star in Intelligent Life, an upcoming science-fiction thriller about humanity's first contact with extraterrestrial life.
According to the Hollywood Reporter, Nyong'o will play the female lead in the upcoming film, which centers around a United Nations employee in the department tasked with extraterrestrial relations in the event that humanity makes first contact.
The project could bring Nyong'o together with Selma director Ava DuVernay, who is rumored to be at the top of the short list to direct the film.
This is huge news for sci-fi fans and movie fans in general, especially during yet another all-white awards season. Sci-fi in particular often draws criticism for under-representing minorities, white-washing their casting, or pigeon-holing them into stereotyped roles. While Nyong'o is fresh off a major role in Star Wars: The Force Awakens, her motion-capture and CGI-only performance disappointed some fans, who hoped that the iconic series would give the Oscar-winning actress a more fitting part.
Intelligent Life is a reworked version of a script written by Jurassic World director Colin Trevorrow and screenwriter Derek Connolly. The duo previously collaborated on the 2012 comedy Safety Not Guaranteed, which is said to be similar in tone to the new film, which tells the story of a romance between the aforementioned United Nations worker and a "mysterious woman," possibly Nyong'o's character.
According to the Hollywood Reporter, executives at Steven Spielberg's Amblin Entertainment could offer DuVernay the director's chair within the next 24 hours, aiming for a summer start date for production.