Rick Rubin Is Making an EDM-Heavy 'Star Wars' Soundtrack
A long time ago, in a DJ booth far far away.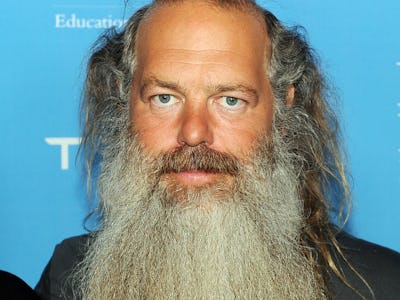 Getty Images
When you were watching The Force Awakens for the fourth time did you ever stop to think,"Whoa, I wonder what this movie would be like with some Flying Lotus music to accompany it?" Probably not, but if you did, Rick Rubin is here to save the day. Rubin, the legendary producer and honorary Jedi, is putting together a Star Wars themed album called Star Wars Headspace.
The zeitgeist-y tastemakers at Pitchfork are reporting that Rubin has enlisted a murderer's row of electronic music artists like Flying Lotus, Baauer, GTA, Kaskade, and A-Trak to contribute.
01 Kaskade: "C-3P0's Plight"
02 GTA: "Help Me!"
03 TroyBoi: "Force"
04 Baauer: "Cantina Boys"
05 Shag Kava: "Jabba Flow: Rick Rubin Re-Work" [ft. A-Trak]
06 Claude VonStroke: "R2 Knows" [ft. Barry Drift]
07 Rick Rubin: "NR-G7"
08 Bonobo: "Ghomrassen"
09 Röyksopp: "Bounty Hunters"
10 ATTLAS: "Sunset Over Manaan"
11 Flying Lotus: "R2 Where R U?"
12 Shlohmo: "Druid Caravan of Smoke"
13 Rustie: "EWOK PUMPP"
14 Galantis: "Scruffy-Looking Nerfherder"
15 Breakbot: "Star Tripper"
We're hoping for some really intense beats per minute to really get in the angry mindset of Kylo Ren. It's all about daddy issues, after all. And even if you have no idea who Kaskade or ATTLAS are, Star Wars fans will be interested in the fifth track called "Jabba Flow" from Shag Kava. That's the song Hamilton mastermind Lin-Manuel Miranda wrote with director J.J. Abrams for the film's updated cantina-esque scene. It hasn't been officially released until now, though the new version on the album features A-Trak.
Per Pitchfork, Zane Lowe will premiere a handful of the songs from the record on his Beat 1 show today, and we'll update as the out of this world tunes (sorry) become available. Here are two tracks to listen to now:
Hopefully this is better than any of the other tangentially related Star Wars things out there. There's no place to go but up if we're comparing it to the universally reviled Star Wars Holiday Special or the Star Wars Christmas album.
Star Wars Headspace is out digitally on February 19 and March 18 in physical formats.