Netflix Acquires Hitler Satire 'Look Who's Back' for Release This April
The 'Borat'-esque comedy was a huge hit in Germany, and now American audiences can see it for themselves this spring.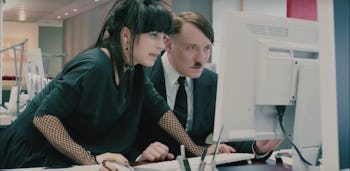 YouTube
Uh-oh, Hitler's back, and now he's getting his very own movie you can stream on Netflix — but it's not what you think. The streaming service has acquired the rights to the satire Look Who's Back, a Borat-like black comedy about the Fuhrer suddenly being resurrected in present-day Berlin and having to deal with his country's newfound multiculturalism. Hitler begins a new career on television after he's mistaken for a comedian, and the contemporary Hitler suddenly finds himself a media star. The movie will premiere on Netflix in certain territories on April 9.
The movie is an adaptation of German author Timur Vermes' 2012 novel of the same name. The book sold 1.4 million copies in Germany by early 2014, and was translated into English later that same year. The film adaptation was put together by influential German production company Constantin Film in 2015, and became a box office smash, making $10 million in two weeks of release. It has since grossed about $21.8 million.
Here's a subtitled trailer from the German release below:
German actor Oliver Masucci plays der Fuhrer, and features the Sacha Baron Cohen-esque scenes of unscripted vignettes of Masucci as Hitler interacting with regular people on the street while staying in character. Those scenes are then interspersed with scripted sequences.
When the film was first released in Germany Masucci told Reuters that German citizens actually welcomed him while in character. "People quickly forgot that the cameras were rolling and started talking to the man, to open up to him," said Masucci.
The movie will be excluded on Netflix in Germany, Austria, Switzerland, Benelux, Czech Republic, Slovakia, Japan, and Taiwan, most likely due to complicated distribution deals. But American audiences will get a load of Hitler all over again this spring. It's part of Netflix's ability to basically do whatever the hell they want.
They've already broken through with their documentaries this year, went on a buying spree at Sundance, and now they're looking to beef up their content with some subversive films that will undoubtedly get people talking.