'Rick and Morty' Comics Are About to Get a Lot Better
Tom Fowler will join the team at Oni Press and add that missing nuance.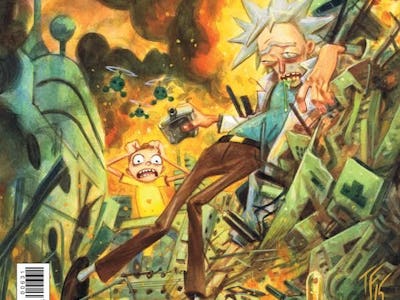 The first series of Rick and Morty comics, released by Oni Press, were bound in a single volume at the end of January. Writer Zac Gorman chose to focus on the multiverse introduced in the television show, following a Morty vs. Morty storyline that featured the creativity, but none of the wit or offbeat humor, of Dan Harmon and Justin Roiland's original material.
Having read each issue as it was released, I was reminded of the off-brand Simpsons comics that I collected as a kid. For some reason, another writer had been hired to create the comics, though Matt Groening had already established himself as a fantastic comics writer. In both The Simpsons comics and the Rick and Morty comics released so far, there's been something elemental missing. Luckily for us, that's about to change.
Comics artist Tom Fowler is set to take over Rick and Morty as his first big writing project, and his comments on the position in the press are encouraging. Fowler told Paste last month, "I think a lot of the comedy for me comes out of circumstances being ridiculous and strange. I don't like to pepper in a bunch of jokes for the sake of writing a joke." Striving for humor without relying on specific punchlines is part of what makes Rick and Morty great, so Fowler sounds like he's on board.
He also noted a particular moment in Gorman's comics, which struck a rare organic chord that felt in line with the show. "In one issue of Zac's that I read all the way through, they're in this alien death maze, and there's only enough charge in the portal gun to get one of them out," Fowler said in Paste. "Rick gives Morty some kind of excuse and shoves him through. Then there's this beat where Rick is alone at the end of this maze. It's a silent panel, and you just see how sad and like, existentially alone Rick is. That hit me in the gut, and I said, '[OK], that's what I'm going for. That's the thing I want to keep. Everything else can be drawn from whatever situations I or my 8-year-old can come up with.'"
It sounds like Fowler is just as entranced with Rick's changing morality as the show's writers are, so his voice will probably fit right in. "I like 75 percent solutions, where things don't get wrapped up," Fowler says. "I hate morals. I hate having a story wrapped up all the way in the end. I like loose threads, because those loose threads allow a character to carry something on from their experiences."
As for artistry, this is Fowler's first big job in comics without illustrating. For the second volume of Rick and Morty comics, that honor will stay with CJ Cannon, whose renderings of the Smith family are pretty simplistic. That's not the best news. Any possibility that Tom Fowler might contribute a variant cover or guest art, however, is promising. Another variant cover has already been confirmed from Nicole Rodriguez, creator of the web comic Bad Soul.
Fowler's illustration style, though vastly different from the animation on the television show, reflects the darker side of the multiverse and adds new dimension and texture to the story. The project might be more exciting if Fowler were solo-piloting the new Rick and Morty comics, but his presence is a welcome one in any capacity.
"I don't know how successful I'm going to be with it, but I want to keep that [every-morning-I-eat-breakfast-20-yards-away-from-my-own-rotting-corpse] sensibility in what I'm doing with Rick and Morty, because to me, that's what's important about the show," Fowler says. "It's not just a funny yuk-um-up with science. It's something deeper, something much more human than that." One thing's for sure: Rick and Morty is about to belong on your pull list.