The Twitter Algorithm Change Is Coming
Your Twitter feed could soon be sorted like Facebook.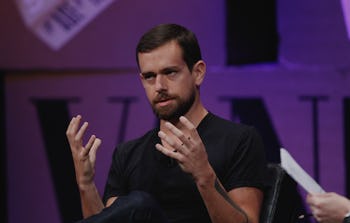 Getty
Update, February 10: Twitter's made its algorithm announcement.
Back in June, we learned that Twitter was considering offering its users the option of a feed sorted by an algorithm (like Facebook) in addition to the classic reverse-chronological order, and now it looks like that change will come to pass as early as next week, according to reports out tonight.
The report by Alex Kantrowitz of Buzzfeed claims that a refresh of the feed may show what Twitter thinks you'll find most interesting instead of the newest tweets.
It won't be the default mode, though, as reported by NBC News's Josh Sternberg on Twitter, naturally.
But that doesn't mean it won't one day be the default mode. Facebook used to sort status updates chronologically, but over time it's made the transition to an algorithm-based default news feed. Although users still have the option to sort it so the most recent updates are seen first:
This is just the latest change Twitter has made since founder Jack Dorsey came back to run the company as CEO. While Twitter's hugely popular, it's been well reported that the company isn't seeing as many new users as it would like, and people don't seem to stick with it after signing up. It's also lost some long-time employees recently — large enough that they prompted Dorsey to share a lengthy update about it.
Back in October, Twitter took a stab at sorting tweets by subject matter with its newsy Moments feature.
The 140 character limit for tweets — another thing that has defined Twitter — is going away, too. Tweets will soon be able to be as long as 10,000 characters. That feature is expected to come out by the end of March.
Twitter users don't seem to welcome the idea of a Twitter feed that's organized by an algorithm, and a few are already writing about it as if it were MySpace (that is, clinging to life but basically dead):