This Sea Lion Pup Walked Into a Restaurant and It Was Adorable and Sad
She was really, really hungry.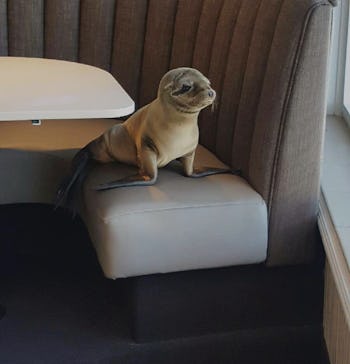 Bernard Guillas / Facebook
A starving sea lion pup walked into an upscale San Diego restaurant and waited all night for service. The poor thing was exhausted and hungry — SeaWorld officials say she's just half the weight she should be for her age.
Bernard Guillas, executive chef for The Marine Room, found her in the morning. She had taken over one of the restaurant's booths and was staring longingly out the window.
A rescue team from SeaWorld came and picked her up. She is being cared for at the park, and staff say they hope she will one day recover enough to be released into the wild.
"SeaWorld came to the aid of this young sea lion this morning and she is now in the care of our amazing Rescue Team," says a post by SeaWorld on the Marine Room's Facebook page. "Thanks to your staff for contacting us so that we could give her a second chance at life."
A later post added that "her condition is critical, but we hope to get her rehabilitated and back out into the wild. She's getting lots of fluids at our Animal Rescue Center."
Sea lions are in rough shape in California these days. More than 3,300 pups were stranded on the coast in the first five months of 2015, which is more than 10 times the average rate.
This year's strong El Niño conditions could be a factor in pup stranding, since changing weather can affect food availability, and prevent mother sea lions from eating enough to produce milk for their young.
The San Diego area has been experiencing particularly high tides, low tides, and stormy weather, which can lead pups to seek higher, drier, warmer ground, a SeaWorld official told the New York Times. The young sea lions are also hungry and looking for food.
The pup at the restaurant wasn't the only one — just this week another young sea lion visited the Cave Store in La Jolla. In that case the pup navigated 145 steps and a metal grate specifically designed to deter sea lions to get into the store. An employee lured the pup out with bits of salmon, and said she saw it rejoin its mother in the ocean.