This New Teaser for 'Archer' Season 7 Has Dick Jokes
Can yet another series reboot make 'Archer' cool again?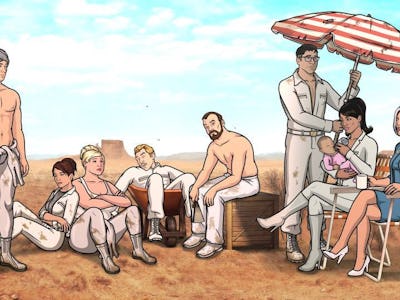 Get ready for some guns and wordplay, everybody! Archer Season 7 will follow the gang as they work as private investigators in Hollywood. In an interview with The Daily Beast, Adam Reed described some of the changes he made to the show.
"Cyril is the owner of the detective agency," Reed said, "because in California, to be a licensed private eye you need to have 2,000 hours of detective work or a criminal justice or law degree, so they all have to work under Cyril's shingle, and Cyril gets to flex his authority a little bit — much to Archer's and everybody else's chagrin." It's possible that a shift in the cast's power dynamic, and a new backdrop might make Archer cool again.
The show attracted several guest stars, including Keegan-Michael Key and Patton Oswalt. While Key is at his best while frantic or giddy, Oswalt's characteristic lazy deadpan will serve him well on Archer. We already get a little clip of him talking to an annoyed Lana in the show's teaser, which looks funny.
The show has a lot to make up for, considering Archer: Vice wasn't anywhere near funny enough to pull off its gimmicky premise, but Reed seems ready to defend his characters this season. One episode, which he teases, sounds like it's full of the slapstick-y, faux-innocent chaos that made Archer's first couple seasons so enjoyable. "We have one episode where it's a double-Indecent Proposal where one group is charged with seducing a woman and one group is charged with seducing her husband," he told The Daily Beast. "There were a lot of costumes and a lot of wigs involved, which was really fun." Reed's nailed it here; although part of the central joke in Archer is that the gang is supposed to be slick, it's essentially a show where characters wear goofy mustaches to pull off heists.
Reed wrote both Sealab 2021 and Frisky Dingo, animated shows that held both goofiness and verbosity in high regard. Early critics called Archer a love letter to Leslie Nielsen movies, and the show will have to find that bawdy tone again in order to lift itself out of a comedic slump. Veering too far into its affection for dick jokes will derail the show again, and choosing sentiment (Lana's baby) over madcap cruelty (everything Archer ever did to Woodhouse) will hurt it beyond repair.
The show's list of guest stars seems crafted for a very specific impact, which is good. The seventh season will also feature voice acting from Dave Willis and Jon Daly, both veterans of adult animation, and J.K. Simmons is slated to appear, as well. Rather than relying on big names for views, Archer looks poised to deliver a season in which every voice actor sounds completely on board with the show's vibe.
This season, as Reed seems to understand, is not a good time for Archer to experiment. The show needs to get back to its roots in order to stay alive.