James Franco Will Direct and Star in Stripper Saga 'Zola Tells All,' Cuz Of Course
The Twitter story heard 'round the world is about to get the Franco treatment.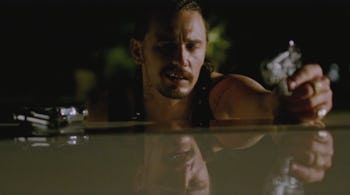 Facebook
James Franco is a ridiculous human being. Whether you love him or hate him, you probably have an opinion on the actor, director, and writer. He's a polarizing force in Hollywood because he has natural talent, but some might argue that he has a terribly inflated ego and takes on projects that he doesn't have the skills or artistic vision to handle.
In the same vein as his ridiculously entertaining RiFF RAFF-inspired portrayal of a Miami drug lord in Spring Breakers, Franco is now set to direct and star in Zola Tells All, a movie based on the viral 148-tweet travelogue by stripper Aziah "Zola" Wells about an insane trip she took to Florida with a girl named Jessica, Jessica's boyfriend, and Jessica's violent pimp.
There are two main male characters in the Zola saga — Jessica's boyfriend and the volatile pimp — which begs the question: as whom will Franco cast himself? I predict that Franco will go for shock value like usual and play the pimp, whose involvement in the saga is a crucial catalyst for the messy unfolding of events. As far as other details about the movie go, there isn't much to tell yet. Franco will be directing a script written by Andrew Neel and Mike Roberts, and the movie will be released through Killer Films. Much like the Twitter saga itself, it should be fun to see the rest of the details about the film adaptation unfold.