'Fear the Walking Dead' Season 2 Casting Tidbits Suggest Prequel Crossover
'The Walking Dead' and 'Fear the Walking Dead' series may finally connect through Dougray Scott's previously unseen character.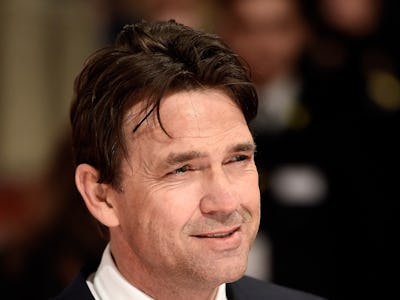 Getty
The Walking Dead is crawling its way back to television on February 14, and its prequel spin-off Fear the Walking Dead will be back this summer. But a new casting tidbit for Season 2 of Fear the Walking Dead hints that the two shows may finally find a common intersection.
According to TVLine, actor Dougray Scott (Mission: Impossible II) has joined the cast of Fear the Walking Dead. While AMC did not disclose the role, TVLine is suggesting "Casey" — a name confirmed by casting breakdowns. If you'll recall Casey Jones was previously mentioned by name in a single line of the fourth season of The Walking Dead by Abraham Ford. In Episode 15, "Us," Abraham says: "None of us have slept more than a couple hours straight since we all went Casey Jones."
This suggests Abraham knew and was present at Casey's apparent turn into a walker. Unless he was referring to the hockey-stick wielding vigilante who helps the Ninja Turtles, which actually wouldn't be the first Turtles reference in The Walking Dead.
But finally! AMC's two zombie series may finally cross in a meaningful way, if viewers are introduced to the same Casey Jones whose demise is later witnessed by a main character of The Walking Dead. Who knows? We might meet a younger Abraham down the line.
Casey is described as "a decent man who believes in civility … confident in an unexpected position of authority … still learning to be a leader. He regrets but accepts the necessary violence for a new vision." It is unknown if he wears a hockey mask.
The Walking Dead returns February 14 on AMC.