'Serial' Season 1: Here's the Big Update From Sarah Koenig About Adnan Syed
Thank you for the interruption.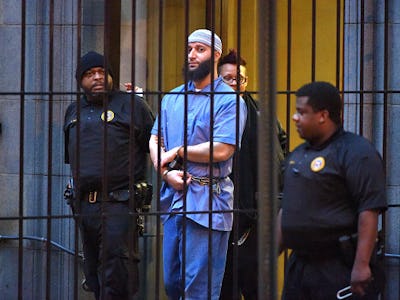 Baltimore Sun/Contributor
Serial host Sarah Koenig dropped a bomb this morning. Season 1's teenager-killer Adnan Syed is back in court for a proceeding he filed in 2010, and for the next few days, she'll be there to cover it.
"If you have no idea what I'm talking about," she wrote in an email around 3 a.m., "Quick: Go listen to season one of Serial, and then come back to me in … roughly 10 hours." Actually, there's already a ten-minute mini episode you can listen to now, which is basically a phone call with Sarah Koenig discussing what happened opening day.
For the next few days Koenig and producer Dana Chivvis will discuss the hearing day by day. Prosecution is today.
This week's trial in Baltimore is just a hearing, not a new trial. It's more of Adnan's last-ditch petition for post-conviction relief. This is a big deal. What happens at the trial could potentially overturn his conviction. Koenig says in her email that the first time she talked to Adnan, the court had denied this petition.
For those of you bored with Bowe Bergdahl hanging out in the desert in Season 2 — and why would you be? — this is your lucky day. If you're not, Episode 6, "5 O'Clock Shadow" came out this morning.