Australia Rolls Out AskIzzy, an App for the Homeless
In one case it directed users to walk across more than 200 miles of water to reach a shelter.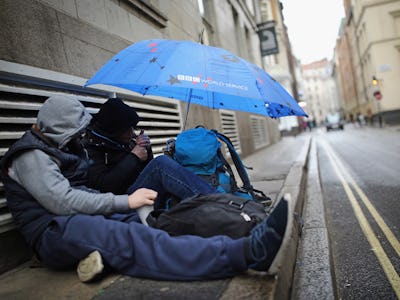 Getty
Australia is reaching out to its homeless with AskIzzy, a free mobile app that offers a location-based, comprehensive directory of essential support services from shelters to social workers.
AskIzzy is part of an initiative launched by Prime Minister Malcolm Turnbull, who unveiled it Friday at Australia's Salvation Army headquarters.
"There is nothing lonelier than being homeless … sense of connection is a critical thing. It's a means for people to find a connection," he told reporters.
We have an anachronistic idea of smart phones as a toy for the wealthy, but with cheap off-brand models available, more and more people under the poverty line have them: partly because a phone in the 21st century is a necessity to land and keep even the worst jobs, and partly because, if you have to have a phone, younger people are more likely to get a cell than a landline.
A 2015 study in The Journal of Urban Health found that 62 percent of homeless youth owned a cell phone, using it to keep in touch with their social worker or trying to get employment. Of those homeless youth, 44 percent paid for their own phones with jobs they were currently holding. Hell, even inmates have cell phones these days.
But like any new tech, AskIzzy's rollout has come with a few bugs. The U.K.'s Register tested the app only to find that it directed users to a closed women's crisis center and, even less encouraging, directed them to walk across 217 miles of water to reach another shelter. The recommendations to find food were decent at least. Hopefully they will continue to iron out the kinks beyond the beta version.