Taylor Swift Is Launching a Mobile Game
Are we out of the woods? Nope. Taylor Swift is, of course, launching a mobile app.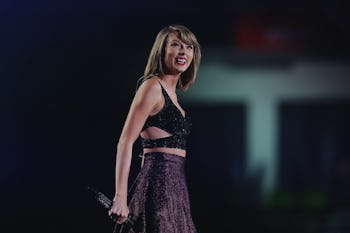 Getty Images
Personal branding is the name of the game. It was announced today that Taylor Swift is working exclusively with Glu Mobile on the development of a new mobile game. The app is set to launch sometime in late 2016.
Branching out into the mobile software world is quite common for famous figures these days, in particular pop stars. Nicki Minaj, Katy Perry, and Britney Spears are currently in partnerships with Glu to develop their own mobile games that mimic the pop stars' lives. Kylie and Kendall Jenner, although not proper pop stars, are also developing their own mobile game after being just featured on Kim's. Following the hot trend, it was only a matter of time before someone as sensational and pervasive as Taylor Swift invented her own idea. With one of the most massive social media followings, Swift shouldn't have a hard time getting fans to play.
In the announcement for Swift's new mobile app, there aren't any details about the game's specifics, but I can imagine it will be similar to the get-inside-the-shoes-of spiel of Kim Kardashian's — more than anything, a chance to feel like you are really living Taylor Swift's illustrious life. Based on Swift's robust squad gimmick for her recently-finished 1989 World Tour, the forthcoming mobile app will probably offer plenty of opportunities to interact with members of Swift's famous clan like Selena Gomez, Gigi Hadid, and Zendaya. I can see the app's notifications now, "Gigi wants to have lunch with you this afternoon. Are you free?"