The New 'Zoolander' Trailer Features "Relax" Remix and Mugatu Goodness
The newest trailer has an amazing surprise song and provides more glimpses into the hilarious stupidity that will be 'Zoolander 2.'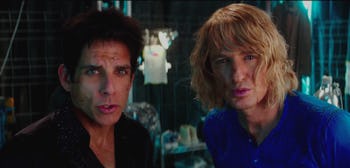 Youtube
Zoolander 2, the highly-anticipated sequel to 2001's blockbuster about two inane male models, comes out next week on February 12. A new trailer for the movie released today features some more sneak peaks into the outrageous comedy, including a short cameo from Mugatu's creepy, haggard DJ played by Justin Theroux who actually cowrote the screenplay for Zoolander 2, and some classic banter between Derek and the nefarious Mugatu.
The trailer opens with the Theroux's cameo: He flashes a sinister smirk to the camera before putting on a remix of "Relax," an '80s classic by Frankie Goes to Hollywood that Mugatu uses to [brainwash] Derek in the first movie; it plays throughout the rest of the trailer. During the remainder of the clip, we see more previews of the unbridled stupidity displayed by Ben Stiller and Owen Wilson in their roles as Derek Zoolander and Hansel, respectively — "I miss not knowing things with you," Zoolander admits at the beginning. We also get to see a bit more of Penelope Cruz's role as Derek and Hansel's sidekick, Kristen Wiig's role as the big-lipped, unintelligible villainess, and Will Ferrell's role as the evil fashion designer Mugatu, who is on a mission to kill the world's most beautiful people. A$AP Rocky and Skrillex also appear, rounding out a star-studded cast.
The trailer's highlight is a short scene where Mugatu is trying to trick Zoolander once they meet face-to-face. "You're trying to make me think I shouldn't help you, in which case I should do the opposite of that and help you," Zoolander guesses, incorrectly, of course. He ends up chained by Mugatu, but the brief snippet embraces the exact kind of profoundly idiotic humor that we all want from the follow-up. Check out the trailer below.