Supergirl and the Flash Will Finally Meet on March 28
The much-awaited crossover appearance will find Grant Gustin dashing into CBS' 'Supergirl' this spring.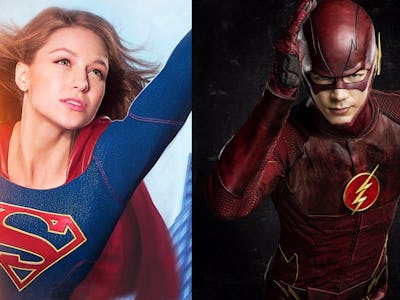 The CW, CBS, Warner Bros.
The Arrowverse just got a lot more super.
On March 28, Supergirl on CBS will welcome Grant Gustin as a guest star when Barry Allen, aka the Flash arrives all the way from CW's The Flash. Although the two shows air on separate networks, both Supergirl and The Flash come from Berlanti Productions, which also produces Arrow and Legends of Tomorrow.
The news, which comes from Vulture and the official CBS website, runs counter to what the producers have said about potential team-up episodes. Though Supergirl is legally able to join forces with the Flash, Green Arrow, and even the Legends of Tomorrow crew, it wasn't a high priority for anybody involved. "[T]here's a lot that would have to happen before everybody might say yes to that," producer Greg Berlanti said last year. Looks like a lot happened!
In a new statement, Berlanti thanks everyone, from the fans and even the journalists who "kept asking" about a possible team-up. "It is our pleasure and hope to create an episode worthy of everyone's enthusiasm and support," he and co-producer Andrew Kreisberg said.
It is unknown what the episode's plot details are, but dedicated Arrowverse fans know that The Flash has fully introduced the multiverse to DC television. This could explain why no one thus far in Arrow or The Flash has encountered or even mentioned Superman, who has an established presence in Supergirl. Could Kara and the Martian Manhunter live on Earth-Three? And how close are we to a full-fledged TV Justice League? Speaking of, the episode will air approximately a week after DC's Batman v Superman: Dawn of Justice arrives in theaters.
In a fun bit of trivia, not only will this episode unite all the DC shows (sans Gotham, RIP Constantine into one sprawling universe, but it will also reunite Supergirl's Melissa Benoist with Gustin, her former Glee co-star. Don't expect any singing though.