Tata Motors Names Car "Zica," Soon to Be Renamed
The company has explained that it will be changing the label very soon because, well, Zika.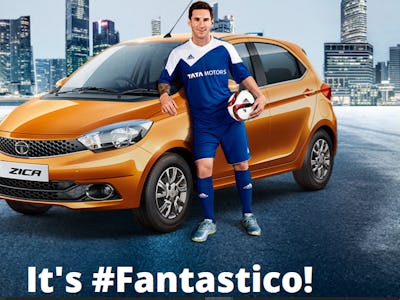 tatamotors.com
The Indian automotive company Tata Motors has decided to rename its newest model of hatchback, the New York Times reported Tuesday.
The vehicle was to be revealed at some point soon after Wednesday at the Auto Expo 2016 automobile show outside New Delhi.
The name of the new car? Zica. The hashtag it has been using to promote the vehicle is #Fantastico — which has left a hefty portion of its social media history pointing out that "Zica" is, well, fantastico.
With the World Health Organization and much of the international medical community especially focused on the current threat posed by the mosquito-borne Zika virus, the Mumbai-based Tata is seeking to distance itself from a disease that threatens millions of people — most notably pregnant women — as Zika is known to cause serious birth defects.
Tata released a statement explaining that it empathizes "with the hardships being caused by the recent 'Zika' virus outbreak across many countries, Tata Motors, as a socially responsible company, has decided to rebrand the car." (The name "Zica" is taken from the words Zippy and car.) The statement further explains that the car will still be unveiled at Auto Expo 2016, and although it will still carry the Zica moniker "for the duration of the event, the new name will be announced after a few weeks, ensuring all necessary consumer/ branding and regulatory aspects are addressed, and the launch will take place thereafter."
Similar circumstances have affected companies, people, and brands whose name was derived or inspired by the Egyptian goddess Isis.
But perhaps at no time has a brand suffered such a blow as when the name of this weight-loss product was echoed by the acronym of a disease recognized immediately by the general public: