Why Magic Leap Could Be Worth Every Penny of $800 Million
So-called cinematic reality has a big future.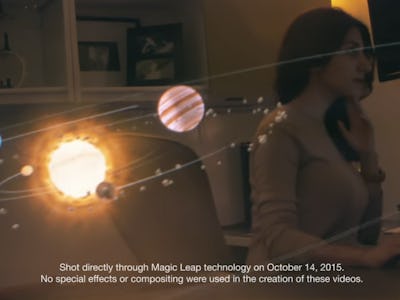 Magic Leap
Magic Leap just set a new standard for "C" round fundraising, as the secretive South Florida augmented reality firm announced an insane $793.5 million in venture capital.
"Here at Magic Leap we are creating a new world where digital and physical realities seamlessly blend together to enable amazing new experiences. This investment will accelerate bringing our new Mixed Reality Lightfield™ experience to everyone," Rony Abovitz, Founder, President, and CEO of Magic Leap, Inc, said in the announcement. "We are excited to welcome Alibaba as a strategic partner to help introduce Magic Leap's breakthrough products to the over 400 million people on Alibaba's platforms."
Incredibly, that gives the company a post-money value of $4.5 billion. Chinese e-commerce company Alibaba led the round, which netted new investors including heavy-hitting financial institutions like Fidelity and J.P. Morgan, just the latest firms to be convinced that some form of virtual reality will become essential to consumers in the near future.
But unlike say, Oculus, which has built excitement with previews of its gear and software, Magic Leap has opened the curtain to the public. Also, unlike Oculus, Magic Leap's technology reportedly works by projecting its otherworldly images directly onto your retina, forcing your brain to interpret those images the same way it interprets real, physical objects.
So, unlike virtual reality, you'll be able to study every tiny detail on the image as you perceive it without even moving your head. We're talking about a wearable device you can keep on throughout the day, in the vein of Google Glass or the Microsoft Hololens, a complete platform from hardware to software to user interface.
The company website makes some big promise about the effects:
Whales jump out of gymnasium floors, solar systems can be held in the palm of your hand, and you can share your world in completely new ways.
That whale video is worth showing one more time:
Here are a few of those "new ways" — a game the company previewed nearly a year ago:
To be fair, that's considered more of a best case scenario than a true representation of where the tech was.
Then there's this demo featuring a cute little robot and a solar system hovering above an office desk, which Magic Leap says was recorded directly through a working device as it was used:
Amazingly, the company still hasn't spent any of the equally huge $542 million it earned in second round funding back in 2014, which was already set to move the product from development to commercial release.
Abovitz told Fast Company today's windfall will accelerate the process and gets the company "well past launch."
And the avalanche of money isn't getting Abovitz to be any less tight-lipped: He wouldn't announce a launch date.