Amazon's New Augmented Reality Satire 'Creative Control' Trailer Debuts
The movie that made some buzz out of SXSW in 2015 will be released on the streaming service sometime soon.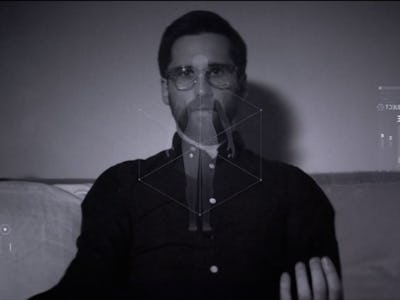 YouTube
What's love in the modern world going to be like when tech completely takes over? That's the question Amazon's new movie undertaking Creative Control raises in a new trailer.
The darkly comedic satire of tech culture premiered at SXSW last year where it won Special Jury Recognition for Visual Excellence. The post-SXSW buzz made the auteur-friendly Amazon Studios perk up, prompting the streaming company to buy the rights to the movie late last year. Amazon plans to release the movie in theaters and online sometime in the next few months in a similar rollout to Spike Lee's most recent film for Amazon, Chi-Raq.
Directed by Benjamin Dickinson, the black and white Creative Control stars Dickinson, Reggie Watts, former Das Racist member Himanshu Suri, and more. It tells the story of an ad executive who has to sell new Google Glass-esque augmented reality glasses called "Augmenta," which forces a technological component to the everyday world that could help or hurt modern life.
The film is part of a recent spate of acquisitions by Amazon, which is combating the Netflix model of flooding its service with as much new content as possible by stressing director-driven material for the Amazon Prime platform. Besides Lee's Chi-Raq, Amazon also announced a TV series from writer/director Woody Allen, and bought the rights to the romantic drama Complete Unknown that played at this year's Sundance Film festival.
Look to give over creative control to Creative Control when it premieres in theaters on March 11 before moving to Amazon Prime.