Lyft Matches Uber's 15 Percent NYC Discount
The battle between the Uber and Lyft for America's biggest city rages on.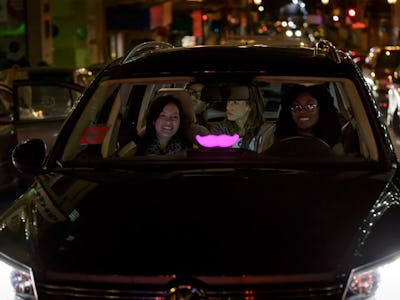 Lyft
On Monday night, people with the Lyft app in New York City got a notification with a familiar offer: Rates for the car service are now 15 percent cheaper.
Familiar because on Friday morning, Uber did the same thing: it lowered rates by 15 percent. But following some bad press on Monday — Uber drivers went on strike and protested outside the company's New York headquarters in Long Island City, Queens — the timing seems weird.
So we asked Lyft about it.
We caught Katie Dally, communications manager for Lyft, at a good time. She hit us back with this comment in record time:
We want to remain the most affordable option for passengers. So starting today, we are lowering prices in New York City to make it easier for people to ride more often all winter long. Lyft is the only ridesharing platform that offers drivers tipping and the opportunity to earn back some of the commission we take through the Power Driver Bonus.
Dally couldn't share timeframes on when the promotion began or when it ends ("all winter long" seems promising!), though, or if there was any concern about the morale of Lyft drivers, given the protests in New York City the same day the Lyft discount was announced.
It's true that the Lyft app gives passengers the option of leaving a tip for their driver via the app after the ride's over, which would certainly help with morale. And there's that "Power Driver Bonus," which promises rewards to dedicated Lyft drivers. However, there's no denying that it seems Uber often has far more cars on the streets of New York than Lyft, which sometimes makes the choice for customers pretty easy. Other times, it seems neck-and-neck.
The Lyft discount news comes just a day after Lyft's corporate blog published the post, "#ThankYourLyftDriver." Back on January 15, Lyft announced it was lowering fares in a reported 33 cities, but not Chicago and New York. That move also followed a similar announcement by Uber.