Behold, NASA's Massive Super Guppy Aircraft Delivering the Orion Spacecraft to Florida 
The vessel designed to take us to Mars is entering the last preparatory stages before its big 2018 mission.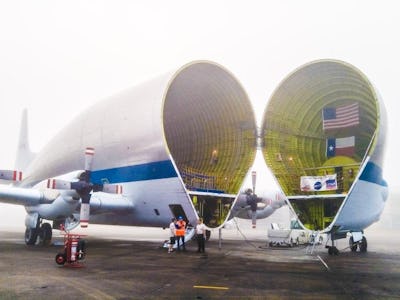 NASA
NASA's Orion spacecraft has finally made it to Kennedy Space Center after leaving New Orleans this morning. The successor to the now-retired Space Shuttle program, Orion left the Michoud Assembly Facility aboard the agency's massive Super Guppy aircraft and made touchdown at KSC's runway east of Orlando at about 3:40 p.m. Eastern time.
Orion isn't just meant to replace the old Space Shuttles and help send U.S. astronauts into space once again. The vessel that NASA began building in 2009 is part of the overall effort to send astronauts beyond Earth's orbit and make it to the moon, Mars, and even farther. Orion has already been sent into space during its first flight test back in December of 2014. The spacecraft was back in New Orleans for upgrades in anticipation of a September 2018 uncrewed mission that will send Orion to the moon and bring it back in one piece.
The spacecraft is meant to work in conjunction with the new Space Launch System, which will be capable of sending about 154,000 pounds of payload out past Earth's atmosphere. The inaugural launch of the SLS is the one to send Orion off to the moon.
NASA will hold a briefing on Tuesday to further discuss its plans for the upcoming 2018 mission and reveal other types of satellites and instruments that will be going up into space along with Orion.
In the meantime, however, check out these wicked cool pictures and videos of Orion finally landing in Florida. Inside the Super Guppy, it appeared to have plenty of headroom in the cargo aircraft that's 143 feet long, 48 feet tall, and has a 156-foot wingspan. It only looks like the largest plane to ever exist because of the hollow interior. At 209 feet long and with a 199-foot wingspan, the Boeing 777 is still larger, but decidedly less sci-fi looking than the SG: