'So Help Me God' Is Actually the Title of Kanye's New Album, Probably
Kim Kardashian tweeted a poll, and nothing was the same.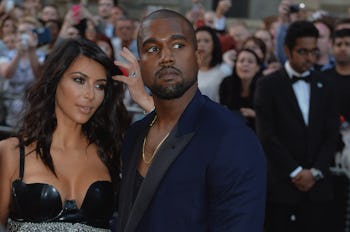 Well, we all knew that it might come down to this. Of course Kanye's indecisiveness about his new album's name has manifested itself on Twitter, the dying format that Kanye seems keen on reviving with talk of pants and pools. Of course the leading candidate in Kim Kardashian's new Twitter poll — "Which album title do you like best?" — is So Help Me God, the original title of the album. Of course we're going to figure it out this way, via a last-ditch Twitter functionality on a service that has been an electrifying pedestal for West and basically nobody else. And, of course the worst title is leading.
Like the piece of notebook paper said, Kylie Was Here, but Kim Never Left. Kanye's new album is out next week, and it seems like it's actually coming out after a number of false starts. We have 22 hours to get the right title; so help us God.