Drake's New Song "Summer Sixteen" Is Right, Kanye Does Have a Small Pool
Analyzing the most incendiary and salient criticism from Drake's new diss track, the first single from his 'Views From the 6' album.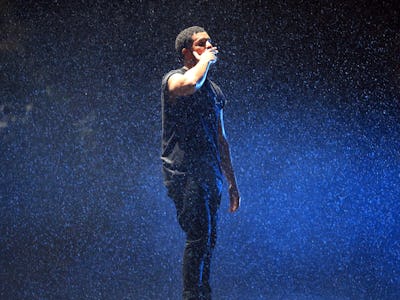 Christopher Polk/Getty Images for Coachella
A hundred feet from the patio, across his enormous swimming pool — the rippling waters of which contain two very big statues of voluptuous women, on their knees, in bikinis — what was a pummeling cascade becomes a whispering drizzle. Behind the falls, you can now see a man-made grotto, tricked out with a wet bar, illuminated wading pools, flatscreen TVs and a dozen other details that take time to register fully.
Rolling Stone's 2014 Drake profile leads with, among other things, this description of the rapper/singer's pool, part of his $7.7 million dollar L.A. mansion. It sure seems like the central attraction of his estate.
Then, later in the piece, the immediately revelatory quote — anyone reading it should have seen a Drake pool line, or Drake using his pool as leverage, a mile away:
"That's a water slide that comes from the top. I'm obsessed with, like, residential pools. One of my goals in life is to have the biggest residential pool on the planet."
Yes, he's obsessed; there's more where that came from in the piece. And man, it sure comes across — almost awkwardly — in the Toronto rapper and singer's new passing diss of Kanye West in "Summer Sixteen." The hazy, spastic trap song disses at least four other people — President Obama (and by proxy, Kendrick Lamar), Jay Z, rapper Tory Lanez and, of course, his old adversary Meek Mill.
You can hear the track at 34:21 below:
Here's Drake's line about Yeezy's watering hole in the track:
"I used to wanna be on Roc-A-Fella then I turned into Jay / Now I got a house in L.A., now I got a bigger pool than 'Ye / And look, man, 'Ye's pool is nice, mine's just bigger is what I'm sayin'"
DJ Khaled then emphasizes the point directly afterward. Drake really wants you to think about this point, more than any of the song's other "reveeeenge" disses.
Are we ready for a new, more belligerent and annoying Drake? I think not. And if you look at Yeezy's pool, it seems modest and tasteful, and not everyone has Aubrey-like "poolvision" when it comes to figuring out ways to manifest their wealth.
Drake might also even be taking into account that the Kardashian family, in general, is not known for appearing in big pools, and has a very modest pool game.
This weird video of Kris Jenner swimming around to Fetty Wap for LOVE magazine does feature a pool with a waterfall, but, man, it really pales in comparison to Drizzy's home Niagara.
Pool size is now at the intersection of the two most high-profile rap beefs of the last year: Drake and Meek and, recently, Kanye and Wiz Khalifa. Perhaps both parties should double up on some collaborative fire-backs against one another. And perhaps everyone needs to invest in bigger pools, and literally go chasing waterfalls and the biggest Waves, am I right?
I'll show myself out.