Stephen Hawking and Paul Rudd Play Quantum Chess as Keanu Reeves Narrates in This Brillant Video
Keanu asks Rudd, 'Do you even quantum, bro?'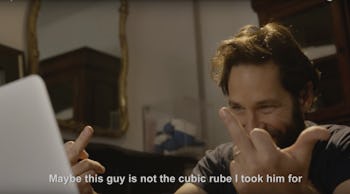 'Anyone Can Quantum'
If there was a game you've been waiting your whole life to watch, it's this round of chess played by Paul Rudd and Stephen Hawking. "Anyone Can Quantum" is a perfectly crafted video narrated by Point Break star and recent internet diarist, Keanu Reeves. The goal of this brilliantly cast match is to show the world that everyone can understand quantum mechanics.
Reeves messages Rudd from 700 years in the future, pointing out rightfully that he never ages and even joking on his band, Dogstar. He encourages Rudd to set up a game of "quantum chess" with the greatest mind in physics. When the Ant-Man calls Hawking, he's watching a cat video on YouTube.
They set up a time ("5 p.m. GMT," Hawking says. Rudd asks, "Is that like LOL or something?") and the game begins. Even Pope Francis and Will Ferrell chime in on Twitter, offering commentary from the sidelines.
The video was created by Caltech's Institute for Quantum Information and Matter and Trouper Productions and is probably the finest thing the internet has produced in our lifetime.