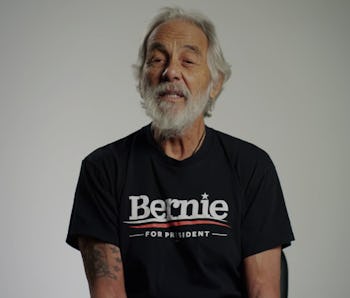 Culture
Watch a Super Stoned Tommy Chong Endorse Bernie Sanders as "Commander in Kush"
Tommy Chong released a hilarious video endorsing Senator Bernie Sanders days before the Iowa Caucus.
Tommy Chong
This Monday, select Iowan voters will be on lockdown in 1,681 precincts. They will gather in actual corners to support their respective candidates for the upcoming presidential election. This decision is the strongest indicator of who will be the final contenders for commander-in-chief.
And of all the voices clamoring for attention during this electoral process, it seems Tommy Chong, of the quintessential Cheech and Chong stoner flicks, is one of the loudest this week. He released a genuinely hilarious video endorsing Vermont Senator Bernie Sanders as the future "commander in kush," complete with plenty of pot puns and sexy shots of budding plants.
Sanders told Yahoo News' Katie Couric, "I smoked marijuana twice — didn't quite work for me." But he did decriminalize the drug in his home state. This November, he even filed a bill in the Senate to end prohibition of pot.
With heavy lids, Chong makes a plant metaphor, calling the other candidates "too immature" and "done." You can figure out who is which. Whether or not you smoke the weed or vote Republican, the jokes in this bad boy are hard to deny.
The Los Angeles Times made this equally amusing behind the scenes video in which Chong "feels the Bern."