Entertainment
Watch Kanye West's Six Best 'SNL' Performances Before His February Return
Here's a look at his previous legendary performances.
Dana Edelson/NBC via Getty Images
Good news, everyone, there's some real music-related Kanye West news to get jazzed about. It's not an album name or a mudslinging Twitter spat. West will return to Saturday Night Live on February 13 with host Melissa McCarthy. It's the sixth time Kanye has performed on the show, and nearly every appearance has been visually iconic and controversial. Each of his SNL performances has offered a complement to the recorded version of the song that's so memorable, it's often hard to detach the two.
His last appearance was just under a year ago, on the SNL 40 special, where West performed then-new songs "Only One" and "Wolves," as well as the classic College Dropout single "Jesus Walks," with a minimal, eerie staging. Every major public Kanye appearance these days is a raw, theatrical, and intimate experience, so this will be one to tune in for. Whatever else happens with the WAVES rollout — whether or not the album is a disappointment or not — this SNL performance is guaranteed to not be boring. Chances are — as it did, say, with "Black Skinhead" and "New Slaves" in 2013 — it'll make you like the songs that much more.
Here are some choice clips of Kanye's past SNL appearances.
SNL 40 (2015)
"Black Skinhead" (2013)
"Runaway" (feat. Pusha T, 2010)
"Heartless"/"Pinocchio Story" (2008)
"Champion"/"Everything I Am" (2007)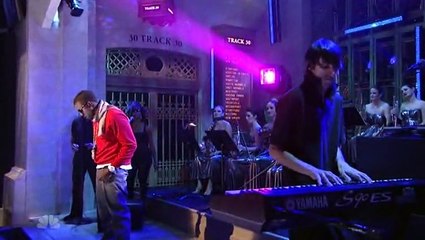 "Gold Digger"/"Touch the Sky" (2005)