Stream New Albums From Rihanna, Sia, Tory Lanez, Wet, and More
For music release Friday, we've rounded up this week's pop releases available for streaming.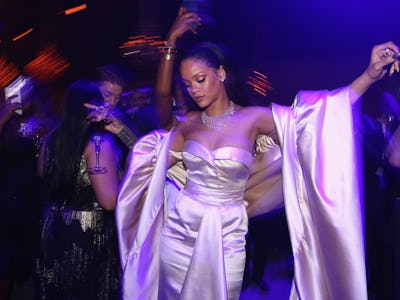 Getty Images
Since last year when the global music release day was moved from Tuesday to Friday, we have earned another reason to be thankful for Friday. To honor all the pop music that has been dropped upon us this week, we've rounded up what's out there for you to stream. Stream on, brothers and sisters.
Sia's This is Acting
The elusive Australian singer songwriter released her seventh full-length record today, This is Acting, marking another solid effort in her catalogue of pop songs that are emotionally exhausting, in the best way possible. Although you may have already heard nearly half the songs since Sia released loads of singles leading up to the album, there are some new hits to discover like the club banger "Move Your Body," or the longing ballad "Footprints." My personal favorite is the Kanye-produced, empowering "Reaper," an atypically positive song in the scheme of Sia's past efforts. With a new LP out, will she shed her evasive, humble guise this year? We'll just have to wait and see.
Wet's Don't You
After a lot of anticipation, the Brooklyn-based synthpop band Wet released their debut record Don't You today on Columbia Records. The album contains previously released and remixed singles "It's All In Vain," "Weak", and "You're The Best," and goes about branding Wet's sound as a serene combination of basic R&B sounds and crystal clear dream pop.
Zayn Malik's "PILLOWTALK"
The ex-1D member made his official solo debut with the release of his first single "PILLOWTALK" and an accompanying music video that is extremely sexy, above all else. "PILLOWTALK" is the first single from his upcoming solo debut album Mind of Mine, due out in March, and a clear deviation from One Direction's innocent antics.
Brooke Candy's "Happy Days"
The new single from the internet's one and only freaky princess opts for emotional impact rather than shock value. In the new track, Candy adheres to a clearer pop blueprint than she has in her previous, more belligerent tracks and deals with a topic she hasn't touched before — emotional pain. The first few seconds of the track remind me of Kelela's somber "A Message," while further along, the song's swelling energy nods to Sia, who is apparently producing Candy's forthcoming debut album. "We got problems, we got pain, we got issues, we're insane," Candy sings in the first of her tracks to showcase her vocal abilities.
Charlie Puth's Nine Track Mind
The "See You Again" singer released his full length debut today Nine Track Mind, which contains the Meghan Trainor-featuring "Marvin Gaye" and other uplifting, saccharine pop escapades. Puth helped out with the writing and producing for his debut record, which adequately showcases his impressive vocal abilities and his affinity for innocuous pop sounds.
Tory Lanez's "LA Confidential"
Today the Canadian-born Miami-based rapper and singer Tory Lanez released a new single, "LA Confidential," an honest track with thumping, dark production that borrows The Weeknd's brooding gloom and combines it with Miguel's breathy vocal style. Miguel actually co wrote the song that serves as a stellar follow-up to Lanez's breakout hit "Say It." The track was produced by Cashmere Cat, Benny Blanco, and Pop Wansel.
Rihanna's ANTI
Although you can't stream this one since it's only available on TIDAL, I would be remiss if I didn't mention the Barbadian queen's highly anticipated follow-up to 2012's Unapologetic that dropped this week. It's much different than her other releases — a darker, more sincere album that provides humanizing glimpses into the life and emotions of the seemingly untouchable figure.