Zayn Malik's New Song "Pillowtalk" Shows He Loves Sex
Sex – The budding pop star can't get enough of it.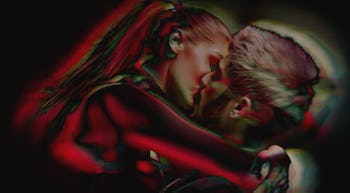 Youtube
In a recent interview with The Sunday Times Magazine, Zayn Malik spoke about sex in his new music.
"Everybody has sex, and it's something people wanna hear about. It's part of everybody's life, a very BIG part of life! And you don't wanna sweep it under the carpet. It has to be talked about," he said about his single "Pillowtalk," which was officially released today, accompanied by a kaleidoscopic music video. Lo and behold, we learn that Zayn wasn't lying — he really does love sex!
In the new single, Malik doesn't hold back on explicit descriptions of doing the deed. "So dirty and raw, in the bed all day, bed all day," Malik belts over a soaring beat, while in the video, he passionately makes out with Gigi Hadid. Another girl, whose association to Malik and Hadid is unclear, keeps spreading her legs to reveal a blossoming flower in an O'Keefe-ian approach to depicting female genitalia. He attempts to complicate the rampant sex-having in the song by comparing the lovers' passionate relationship to a "paradise," and alternately, a "war zone." But the "war zone" part isn't as convincing — Malik is in coital paradise.
One of Malik's primary career goals after leaving One Direction, and understandably so, is to rebrand himself as a separate entity. Besides channeling R&B in his new music, Malik's attempts to differentiate himself are also very apparent in this new single's fixation on sex. Considering his former band's G-rated approach to graciously courting girls and shouting from mountain tops, Malik's transition to an explicitly R-rated approach to sex is a clear deviation. Successfully rebranding, however, will involve more potent efforts than just slowing things down and making them sexier. As Malik's first solo album Mind of Mine nears release, we'll get a better idea of what he's going for, but for right now, it's clear the dude loves himself some sex.