Inventor of Service Complaint App Says He "Got Sick of Waiting on Hold"
Hold music shouldn't be the soundtrack to your life.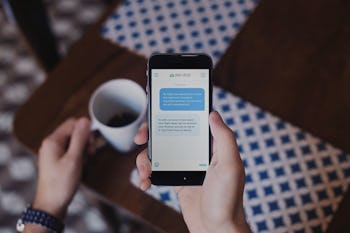 "I'm just a guy who got sick of waiting on hold," says Michael Schneider, a serial entrepreneur and founder of Service, a service that takes up your complaints with companies while you spend your time doing absolutely anything else. Schneider hopes you never wait on hold to see a fair resolution to whatever dispute you might have with a company, because Service handles it all for you. Most appealingly, it's completely free — for now.
"I thought it was absurd that I could get dry cleaning and food delivered on demand, but that I had to wait on hold to sort out any sort of customer service issue with a company," Schneider tells Inverse.
How it works: When you have beef with an airline, retailer, e-commerce shop, whatever, you simply tell Service about it, provide any supporting documentation, and their software and employees go to bat for you. While there are absolutely human Service employees making analog calls for you, this is also a technology company building software with the aim of mapping the quickest way to resolve a customer service dispute. "We're not just building a call center," said Schneider. "Every case we handle trains our artificial intelligence software."
Right now, some 40 percent of cases filed with Service are travel-related; 80 percent of these are airline complaints as a result of delays, cancellations, or lost bags. It happens that all three of these issues are best handled through an automated online form, so the company is able to scale here. It's a commercial promise that's earning the company a lot of media attention right now.
"We were just on the Today show, so our volume has been insane lately," Schneider said of the app's appearance on national TV on Thursday. He's mostly been spending his time helping the Service team with new cases, but has so far filed "about 10" of his own complaints.
His personal favorite occurred on a flight to Boston in July last year. Upon noticing that there was an issue with the hotel he was due to stay at that evening, he filed a case from airplane wifi and saw the issue fixed before the plane landed.
Service is a means of outsourcing your frustration at whichever company has somehow wronged you, and in the interest of spreading brand awareness, it's completely free to use right now.
"We are not a nonprofit, but we raised enough venture capital to give us time to figure this out," said Schneider. To date, the company has raised a total of $4 million.
"It'd be taking the easy way out to charge five bucks per case or 10 percent of whatever we're able to refund a customer. Ultimately we're helping companies protect their brands, we're calming down customers, and we're preventing angry calls and tweetstorms."
"I think there's a big opportunity in fixing broken communication between businesses and consumers," Schneider says.