Yes, Rihanna's New Album 'ANTI' Totally Features a Tame Impala Cover
It's actually longer than the original, which is … long.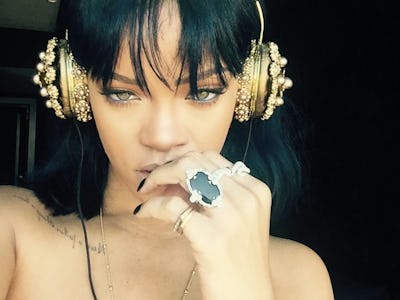 The release of Rihanna's new album ANTI — her first album since 2012's Unapologetic — will go down as one of the biggest kerfuffles in the history of hyped major-label releases. First, Rihanna's media rollout dragged on for what seemed like an eternity; at several points in the process, many doubted ANTI would ever be released. Later, she released underwhelming singles lacking anything resembling a focused aesthetic. For a period of time — one that included exciting collaborations that seemed to bode well for a new Rihanna project — the wait for ANTI seemed taxing for even Rihanna's biggest fans.
Given the messy rollout, it's no wonder that the album's sudden release scans as ANTIclimactic. (I'm sorry.) Tidal, the beleaguered music service that had an exclusive deal to premiere ANTI, inadvertently leaked the record — Rihanna eventually posted a download code for the album.
The album itself is unfocused, owing to the project's explicit affinity for weed. Even though ANTI is happy to exist, rather pleasantly at times, in this headspace, Rihanna goes for it. Yes, she covers Tame Impala's heady Currents closer "New Person, Same Old Mistakes," more or less-note-for-note, in a fashion that's even longer than the original.
This is more or less the mindset that will allow you to enjoy one of the world's biggest pop star's most indulgent release. So tack up that Rihanna poster next to the Tame one at the dorm and zip-up into your new reality. Sometimes love is found in hopeless places.