Nat Turner Movie 'The Birth of a Nation' Lands Biggest Sundance Deal Ever
Fox Searchlight bought writer/director Nate Parker's passion project that drew rave reviews at Sundance 2016.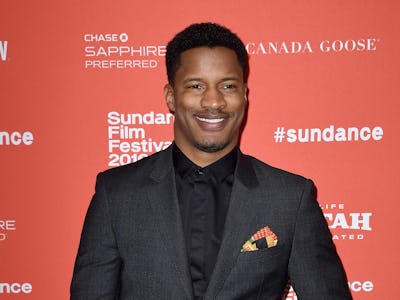 Getty Images
After premiering to raucous acclaim and a prolonged standing ovation at the 2016 Sundance Film Festival, Deadline is reporting that writer/director Nate Parker's The Birth of a Nation was acquired by Fox Searchlight for a record $17.5 million deal. That's the richest movie purchase in Sundance history.
Parker's movie, a passion project that tells the story of a slave revolt headed by Nat Turner (played by Parker) in the early 19th century, co-stars Armie Hammer, Penelope Ann Miller, Jackie Earle Haley, and Mark Boone Junior. Parker previously acted in movies like The Great Debaters, Red Tails, and Beyond the Lights before turning away from acting in order to get his movie made. The Birth of a Nation is his directorial debut.
Fox Searchlight's multi-million dollar deal tops its previous record, paying $10.5 million for Little Miss Sunshine at the festival a decade ago. That now looks like a steal: The movie went on to earn multiple Oscar nominations — including Best Picture, and wins for Best Original Screenplay and Best Supporting Actor — and more than $100 million grosses worldwide after premiering at Sundance.
In his review, Variety's Justin Chang wrote, "The Birth of a Nation exists to provoke a serious debate about the necessity and limitations of empathy, the morality of retaliatory violence, and the ongoing black struggle for justice and equality in this country. It earns that debate and then some." The festival purchase comes at a time when racial disparities in America are driving news, discussions, and in movie industry, a full-blown overhaul. The Academy of Motion Picture Arts is blowing up its membership practices when, for a second year in a row, the Oscar nominees were overwhelmingly white.
Per Deadline, The Weinstein Company, Sony, and Netflix were among the other production companies in the mix to bid for the movie. Netflix, which has been throwing money around Sundance like a pile of fun coupons, reportedly went all-out and offered $20 million for the rights to Birth of a Nation.
Fox Searchlight won out at a lower price, perhaps because Searchlight is the company that helped 12 Years a Slave win an Academy Award for Best Picture in 2014, and the filmmakers most likely thought they would have their best shot at a similar awards potential outcome with them. This will definitely be a movie to look out for at the Oscars next year.