New York City Considers a Better Train
"'Open gangway" train cars are in regular use across the world ... except in the U.S. Will NYC lead the way?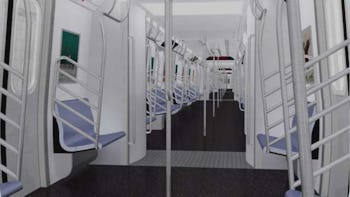 MTA
The Metropolitan Transportation Authority of New York City released an image Monday that indicates the city is preparing to utilize "open gangway" subway cars, a sort of conveyance used in several countries yet overwhelmingly foreign to the U.S.
Currently found operating in nations like France, Japan, India, the UK, China, and Canada, the trains (940 R-211 model) differ from the separated cars that NYC and other American cities use for mass transit — instead, riders can walk the length of an "open" train without having to exit the subway.
Reported statistics indicate the open style of train car could increase passenger capacity by approximately 10 percent. The MTA has announced a plan to purchase ten such open gangway cars for two different full trains — although prototypes aren't expected to arrive until at least 2020. The new cars are slated to replace 40-year-old trains on the city's A and F lines. Each would also offer WiFi connections and charging stations.
The concept is not actually new to New York, as Second Ave. Sagas recently blogged that the MTA once previously considered the 211 trains back in 2013, while the New York Times had published a reminder that at one time the city featured a number of articulated trains — similar in design to the 211 — as early as 1924.
Today, however, there are none — and according to The Transport Politic, NYC is not the only major metropolitan area in the U.S. that has rebuffed the open gangway cars; San Francisco, Chicago, and Washington D.C. have also stayed with the singular train car format — further claiming that while 75 percent of cities with metro systems offer full-train open gangway cars, zero are located in the United States.
The New York Daily News reports that NYC Transit's acting subway chief Wynton Habersham said during an MTA board meeting that "We're using this project as an opportunity to just test that technology and see if it works for New York."