Ryan Reynolds Asks a 'Kinky Sex Question' in New 'Deadpool' Clip
This is going to be one truly unique superhero movie.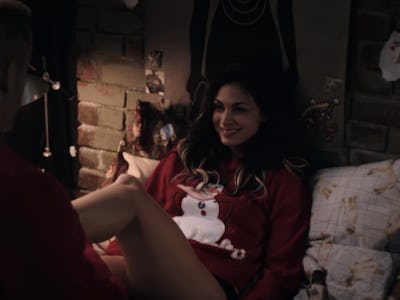 www.facebook.com/DeadpoolMovie
Update:
20th Century Fox has uploaded a higher-quality version of the video to its YouTube page, this one titled "Poppin' the Question." Now with more pixelated Ryan Reynolds butt in HD.
As its February 12 release approaches, 20th Century Fox is trying to give viewers hints about just what kind of anti-superhero movie Deadpool is trying to be. A new clip from the movie titled "Kinky Sex Question," posted by JoBlo.com, shows just that.
In the brief video, Wade Wilson (Ryan Reynolds) shares an intimate bedside moment with his girlfriend Vanessa (Morena Baccarin). "Your crazy matches my crazy … big time," Wilson says to her before she says she has something to ask him. She wants him to "Stick it in…" somewhere before being interrupted by Wilson's marriage proposal. He pops the question with a Ring Pop and everything.
So if you think anal sex jokes mixed with shot of Ryan Reynolds' butt, topped off with the implication that he hid a lollipop in his anus is the Funniest Thing Ever, then Deadpool is your movie.
All jokes aside, at least it's trying to be the first major studio superhero release of the modern comic book movie surge to try to be a raunchy, R-rated affair. Viewers will just have to get over Reynolds' sometimes overbearing snark or anticipate Baccarin actually injecting some humanity into the character — considering what happens to her later in the story.
Either way, you won't see Wolverine or Captain America do this stuff, even though Deadpool is technically set in the same universe as its impotent Marvel movie siblings. It's a fascinating marketing move for the movie, considering there's nary a mention of Wilson being a masked vigilante named Deadpool or some nefarious shenanigans that will befall these kinky star-crossed lovers to push the plot of the movie forward.
The clip is a more twisted version of the recent rom-com send-up the movie's marketing department has been pushing onto the web, apparently fooling some people. It's just in time for the movie to hit theaters before Valentine's Day. See it with someone you love.