Showrunner Steven Moffat Says Farewell to 'Doctor Who'
Bittersweet news as the BBC also announced it will be postponing Season 10 until spring of 2017.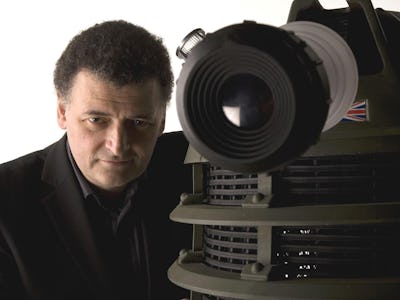 Evening Times
After perhaps the best Doctor Who season of Peter Capaldi's tenure, the BBC announced today that long time showrunner Steven Moffat will be stepping down after the show's 10th season.
The departure of the often embattled head writer and executive producer was met with much rejoicing from Whovians across the internet. Moffat's "timey-wimey" story-lines and routinely questionable comments away from the show earned him nuclear-level heat from Who fans over the years, but ultimately, the show's declining ratings all but guaranteed his exit from the Whoverse was a matter of when, not if.
Fortunately for Who fans, it looks like the BBC has found a more than suitable replacement in the form of Broadchurch creator and writer Chris Chibnall. The ITV's detective series (fronted by former Doctor David Tennant) was a smash hit, even spawning the much less than spectacular American remake Gracepoint (also fronted by former Doctor David Tennant, albeit with a much weirder accent).
Don't let his penchant for dark crime dramas fool you; Chiball has some serious Who bona fides. Before Broadchurch, Chibnall was co-producer and head writer for the first two seasons of the Captain Jack Harkness spin-off Torchwood, as well as penning several Doctor Who episodes during both the David Tennant and Matt Smith eras.
Of course, far be it from Moffat to make his exit without one last opportunity to troll the shit out the Whoverse. In order to give Moffat a "proper farewell" (read: to avoid competing with the 2016 summer Olympics), Season 10 has been postponed until 2017, though the BBC confirmed there will still be a 2016 Christmas episode.