Watch the SpaceX Dragon 2 Spacecraft Hover Test
This next-gen spacecraft is slated to take people into space in 2017.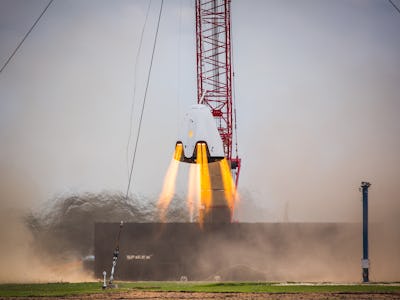 SpaceX
Ooh, aah.
SpaceX has completed a vital hover test of its Dragon 2 spacecraft, and there's video evidence.
The test shows off the craft's propulsive landing system, which in theory will allow crew and cargo to safely land in the event of an emergency. It's powered by eight SuperDraco engines that are built into the side walls.
This is the spacecraft that SpaceX hopes will complete the first commercial crewed mission to the International Space Station, currently set for some time in 2017.
One day, if you ask SpaceX, the Dragon will take humans to Mars.