Here's How Americans Are Living Past Age 100
By 2050, the number of American centenarians could reach this milestone.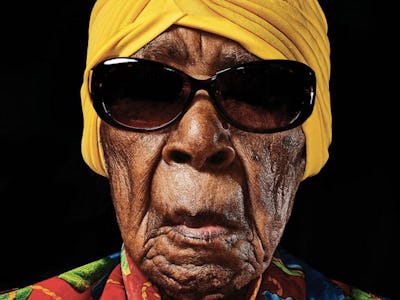 The oldest person in the world right now is 116 and wakes up every day to a breakfast of eggs, grits, and bacon. Born in 1899 in Alabama, Susannah Mushatt Jones of Brooklyn, New York, is the leader of an increasingly large pack: Americans who are 100 years old or older.
The National Center for Health Statistics, a branch of the CDC, announced today that the number of American centenarians is going up. In 2000, there were 50,281 centenarians. By 2014 there were 72,197, good for a 43.6 percent rise.
While there are currently 35 million Americans who are 65 or older, the fastest-growing segment of the U.S. population is actually those who are 85 or older.
By 2050, there could even be one million Americans who are 100 years old or older, according to the National Institute on Aging. That's a lot of grandparents who don't think canned ham is that bad.
Because the number of American centenarians has increased, naturally the rate of centenarians dying has increased as well. Interestingly, the death rates weren't equal among races: Between 2000 and 2006, centenarian deaths went up among the Hispanic population, and from 2000 to 2008, death rates rose for non-Hispanic white and black populations.
Heart disease, Alzheimer's disease, stroke, cancer, influenza, and pneumonia rounded out the top causes of death for the extra-elderly, with heart disease as the primary reason for both men and women. However — perhaps because of medical advancements that relate to heart disease — there has been an uptick in deaths caused by Alzheimer's. Between 2000 and 2014, death rates for Alzheimer's disease increased by 119 percent.
The CDC has said previously that Americans are living longer because of an overall reduction in deaths due to previously dominating illnesses like heart disease, cancer, stroke, and chronic lower respiratory diseases.
Now, we just have to learn how environment and lifestyle factor into the aging process — and how we can make life more comfortable for our super seniors.
Meanwhile, we've got to soak up all their wisdom that we can. Jones' advice that the key to a long life is bacon, kindness, and fancy lingerie isn't a bad place to start.