What We Know About M.I.A.'s New Album 'Matahdatah'
We don't know much, but what we do know is intriguing.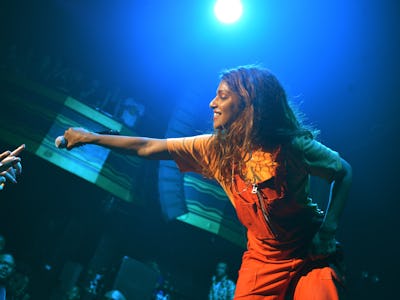 Getty images
Mathangi Arulpragasam, better known by her rap moniker M.I.A., is currently working on her fifth studio album Matahdatah, the follow-up to 2013's Matangi. While we still don't know much about the upcoming release, M.I.A. has provided us with some intriguing updates on her new project along the way. So far, it looks like Matahdatah is shaping up to be a tic, on-brand M.I.A LP, one that combines eclectic and worldly soundscapes with an overarching awareness of the world's various cultures as well as plenty of political commentary. Here's what we know so far about Matahdatah.
In March 2015, M.I.A. shared "Can See Can Do" on her Soundcloud, her first song since Matangi. The release threw fans off a bit since earlier that week she hinted she would be dropping a song called "All My People," but new M.I.A. is new M.I.A. and we'll take it. Then in May she uploaded a demo of "Platforms" to her Soundcloud, but it has since been confirmed that this song will not be on Matahdatah. Both songs have been removed from her Soundcloud, but you can listen to them on Youtube below.
In July of 2015, M.I.A. released a video called "Matahdatah Scroll 01 Broader Than a Border," the first in a series of ten audiovisual projects that will be filmed in different countries and released in bundles leading up to the full length LP. This first video features traditional dancers from India and West Africa (Côte d'Ivoire) as well as shots of M.I.A. sitting among them, soaking in the beauty of these cultures of which the majority of the Western world is probably unaware. Always leave it to M.I.A. to provide these kinds of into distant, colorful cultures.
The video features her new song "Swords," which will be on the new LP. M.I.A. captured the footage for the video outside a temple in India, and in a personal announcement, she said, "We recorded the clang of the metal to make the beat at the same time as shooting these incredible girls." The video also contains her song "Warriors" from 2013's Matangi, which corresponds with the footage M.I.A. captured in West Africa. In that same statement, she discusses the "Warriors" footage:
'Warriors' was shot in Cote d'Ivoire with a guy I saw in a Youtube video doing the most incredible dancing. I tracked down that exact guy, flew out there and played him the 'Warriors' track. He did his thing for me. He is a spiritual warrior and communicates through dancing.
According to a press release, we also know that "MATAHDATAH is the journal of MATANGI," which suggests that the rapper's upcoming release functions as a journal of her experience creating Matangi, perhaps due to M.I.A.'s promise of a certain level of "spirituality" in her 2013 release. We also know that, in general, the upcoming album will tackle M.I.A.'s fascination with the concept of borders. M.I.A. realized her intrigue with this idea while filming the video for "Warriors," so it makes sense for her to release the video a bit late, in conjunction with Matahdatah's emphasis on the same concept.
Most of the information we know about Matahdatah came with the release of "Matahdatah Scroll 01 Broader than a Border." Aside from that, M.I.A.'s Instagram hinted at Skrillex's involvement in the upcoming release through this photo:
Most recently, M.I.A. released the single "Borders," which a press release confirmed will be on the upcoming Matahdatah. In the song, M.I.A. raps through a laundry list of various political tropes — identities, privilege, broke people, political tropes. A week later, she released the self-directed video for the single which sees M.I.A. joining a group of refugees on their daunting journey.
Stay tuned for more updates on Matahdatah. You stoked yet? We sure are.