'Agent Carter' to 'Supergirl': Every Marvel and DC Show on TV This Week
Spandex, capes, and ass-kicking women dominate geek TV this week.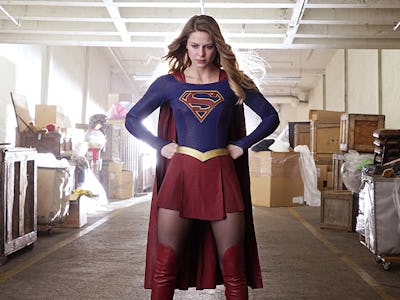 CBS
Do you love comic books and superheroes? Then call in sick this week and glue your rump to the couch, because Marvel and DC are bombarding primetime TV with a vengeance. Midseason returns for shows like Arrow and The Flash, new season premiere for Marvel's Agent Carter, and gigantic specials for Batman v. Superman: Dawn of Justice and Suicide Squad are all in the itinerary. Pencil in these appointments, you won't want to miss them.
Monday, January 18
Though it already returned from hiatus earlier this month, Supergirl took off again last week and returns Monday night on CBS. In "Childish Things," J'onn J'onzz, a.k.a. Martian Manhunter, takes flight with Kara.
For Gotham fans wondering when it's returning, all three of you can relax. It's on break until Leap Day, February 29. But it has a trailer, and signaling the introduction of Mr. Freeze.
Tuesday, January 19
Tuesday night is stacked. First, Marvel's Agent Carter returns for a two-hour season premiere of its second season to occupy the empty void left by Agents of S.H.I.E.L.D., on hiatus until March 8.
The period piece spin-off of Captain America: The First Avenger follows MCU MVP Agent Peggy Carter on a new mission in sunny Los Angeles. Originally scheduled to air January 5, the 2016 State of the Union delayed the show's return. Thanks, Obama.
Over at The CW, DC goes head-to-head against Agent Carter with The Flash returning, teasing Barry and the rest of S.T.A.R. Labs journeying through Earth-Two. Which means yes, they'll meet Killer Frost, Earth-Two's supervillain Caitlin Snow.
And that's only half of it. Following The Flash, The CW will air Dawn of the Justice League, a special presentation hosted by Kevin Smith and DC's Chief Creative Officer Geoff Johns. The primetime preview will show off Batman v. Superman: Dawn of Justice and a new trailer for this summer's Suicide Squad.
Wednesday, January 20
All bets are off after Damien Darhk's hit and run on Felicity from the midseason cliffhanger. Oliver has returned to his darker killer instinct he hadn't had since Season 1, and it'll take a hell of a lot of convincing to bring him back.
Thursday, January 21
And finally, the week of superheroes ends with the premiere of DC's Legends of Tomorrow, bringing together all the key heroes and villains from Arrow and The Flash into one pseudo, time-traveling Justice League.
Friday, January 22
Nothing. But it probably would have been Constantine. If only.