Video Captures Bombing of ISIS Cash Depot and Money Floating Into the Iraqi Sky
Video released by the U.S. Department of Defense shows the successful bombing.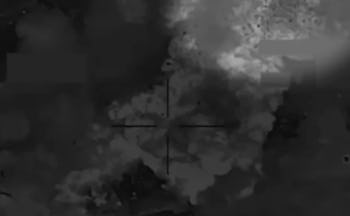 Top Pentagon officials estimate that ISIS has lost "millions" of dollars after one of its cash storehouses was bombed by U.S. Central Command.
The video was shot during a January 11 bombing of a "cash depot" in Mosul, Iraq.
"It was a good strike. And we estimate that it served to deprive ISIL of millions of dollars," General Lloyd Austin, head of the U.S. Central Command, reportedly said.
"And combined with all of the other strikes that we've done on ISIL's gas and oil production and distribution capabilities and strikes against his economic infrastructure and the various sources of revenue, you can bet that [it] is feeling the strain on his checkbook," Austin told CNN.
See also: ISIS Technicians Work on Self-Driving Cars at Terrorism R&D Lab in Leaked Video