Flint Residents File Class-Action Suit Alleging State Lied About Water Safety
But getting billed for toxic water is the real stinger.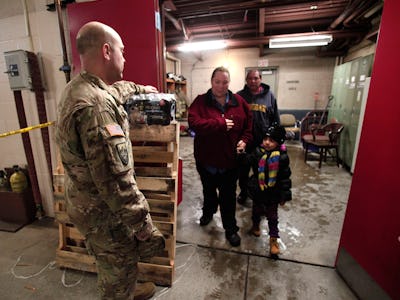 Getty
Perhaps the last straw was being told to go ahead and wash your babies in lead-poisoned water, maybe it was being billed for the privilege, but Flint, Michigan's Doris Collins, Robin Pleasant, and Jason Phinisee have had enough. As of Thursday, the trio had filed a class-action suit against the state of Michigan, Gov. Rick Snyder, and the city of Flint seeking reparations for the gross negligence allegedly leading to the ongoing water crisis.
The plaintiffs claim to have suffered physical and financial injury from a city water supply spiked with a toxic confluence of lead particles. And it only grinds the wound to ask that they keep paying their water bills while Gov. Rick Snyder declares the a state of emergency and mobilizes the state National Guard with bottled water, filters, and lead testing kits. Even worse, as the suit puts it in its strongest allegation, the state's Department of Environmental Quality knew all this could happen and still "made the decision to replace safe drinking water with poisonous water."
As the suit puts it, Flint's water supply was connected to the Flint River in 2014 in "a cost-cutting" move while under state financial management.
Former Flint emergency financial manager Darnell Earley (now emergency manager for the Detroit Public Schools), and former Flint Public Works director Howard Croft, now resigned, are also named as defendants.
The suit alleges that the state's lies about the water's drinkability violated the Michigan Consumer Protection Act:
Ten people are now dead of the respiratory illness Legionnaires' disease — caused by Legionella bacteria potentially linked to the crisis. Continuously billed for potentially fatal water service and threatened with shutoffs, about 1,800 residents were past due on their water bills as of November.
On Friday morning, Michigan Attorney General Bill Schuette announced an investigation to determine whether the state or its civic servants violated any laws along the way to Flint's water disaster.